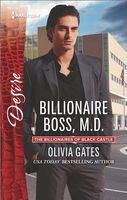 Series:
Billionaires of Black Castle
(Book 5)
Will this doctor's passion trump vengeance?
Rumors swirl around the world-famous surgeon who just added Dr. Liliana Accardi's research lab to his vast empire. And from their first mesmerizing encounter, Antonio Balducci breaches all her defenses as he lures Lili into a passionate affair fueled by his own dark motives.
The gorgeous scientist is Antonio's entry into the family he's sworn to destroy. But his manipulations ensnare him. With his soul on fire for the woman he desires above all else, will Antonio's love prove stronger than his hunger for retribution?
Good book. Liliana is a research doctor at a lab that has just been acquired by a billionaire's company. She doesn't believe that he will allow the researchers to continue their work, but will instead have them working on things to increase his profits. An "all hands" meeting gives her a chance to confront him face to face.
Antonio has ulterior motives for his acquisition. A dark past has him seeking revenge, and Liliana is the doorway in. Basing his actions on past successes, he expects Liliana to fall in line. He is stunned when she not only doesn't meekly follow along with the others, she confronts him with her views on what he is doing. Her bluntness and refusal to back down confuses him and turns him on.
I liked Lili. She is brilliant, but socially rather awkward. What she thinks is written all over her face and pops right out of her mouth. She also has an amazing amount of insight into people and seems to be able to see past Antonio's public persona to the man underneath. Though confident in her professional abilities, Lili is quite insecure about her personal worth and appeal.
Antonio was a little harder to like in the beginning pages, but his quick succumbing to Lili's quirkiness won me over. Ever since he had been young, he had a talent for persuasion and manipulation which he used ruthlessly to build his empire. When he created his plan for revenge he hadn't counted on a key player being immune to his methods.
From the beginning there were sparks between Lili and Antonio. Between those sparks and his fascination with her mind, Antonio was pretty much a goner right away. I loved the way she constantly kept him off balance with her attitudes and actions. Standing up to him didn't stop him from pursuing her, it only made him more determined. Lili was just as attracted to him, but didn't believe that he could be attracted to her. It was really fun to see him doing everything he could to impress her, in ways that had always worked before, and see her shoot him down over it. Her immediate depth of understanding of Antonio the man was something he'd never experienced before. I loved the effect that she had on his plans, both for the lab and his revenge.
But as quickly as the two of them fall and declare their love to each other, there are still issues bubbling under the surface. When Lili learns of his connection to her family, she feels hurt and betrayed. When she is badly injured in her rush to escape, Antonio realizes the mistakes he has made. He is devastated by her belief that he had used her. Even his attempt to give her the space he thinks she needs backfires for him. I ached for Lili, whose insecurity about her own worth, has her believing that Antonio never loved her. I loved the arrival of two of his brothers to confront Lili, and the re-emergence of her fighting spirit. Their protectiveness toward Antonio never really stood a chance against her once she made up her mind. The ending was terrific as the fears of both are finally overcome by their love.