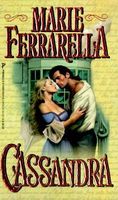 1783. Cassandra MacGregor had first seen Morgan's Creek, Virginia, in a dream. A haven from the danger and persecution she was running from, this young town promised new life for a young woman accused of witchcraft--a woman who dared not trust her secrets to any man, nor surrender herself to love ...until she met Riley O'Roarke.
The rakish editor of The Virginia Gazette, Riley O'Roarke learned his trade at the hands of Benjamin Franklin and embodied all the spirit and optimism of a newly free America. Riley knew nothing about Cassandra's past or her secretly guarded abilities as a healer and seer. But her ethereal grace, her quiet dignity, and her fathomless blue eyes cast a spell over him that left a passionate and turbulent yearning in its wake. Now, while fate and desire entwined their destinies, a menacing danger once again stalked Cassandra-a threat so dire, so brutal, it could destroy all she held dear.
From the halls of Monticello and the brilliance of Thomas Jefferson to the passionate furor of local government and a country finally at liberty, Cassandra and Riley would have to fight for a love that could not be bound...
Good book. I really enjoyed the setting of a brand new United States. Cassandra, her sisters and her father have come to Morgan's Creek, fleeing from a man who would do anything to have Cassandra as his own, even accuse her of witchcraft. Cassandra is a healer, but she is also a seer, someone who has visions of the past or the future. This got her into trouble in New York, and she hopes to start a new life in Virginia.
Shortly after arriving, she meets Riley O'Rourke, owner and editor of the town newspaper. She knows immediately that he will play a large role in her new life, but she isn't sure how, I loved that first meeting and the interaction between them. She is attracted, but wary, and determined to keep him at a distance. But Riley is fascinated and intrigued and determined to pursue the connection he feels between them.
I really liked Riley. He is a smart, self-made man, who got his start in the newspaper business under the tutelage of Ben Franklin. As an Irishman, he supported the colonies in their quest for independence, and is now a part of the fledgling country. He takes his job as a newspaperman seriously and works hard to make it a success. He is also determined to make sure his new country doesn't repeat the mistakes of the old, and gets involved in local government issues. I loved his fascination with Cassandra and how he sensed that there was more to her than appeared on the surface. When she came to him with the warning about the imminent attack on his office, I loved how he didn't laugh at her, but actually believed what she said. With his new knowledge of what she is and how it affects her, Riley becomes even more protective of her. He also falls deeper in love with her, but can't seem to get past the barriers she has put up against him.
Cassandra has been badly frightened by what happened in New York, and the threats made against her and her family. She is determined to keep her abilities secret and thus prevent it from happening again. But she has no control over when the visions happen or who they are about. She is attracted to Riley, but fears his reaction if he were to find out about her abilities, so she tries to keep a distance between them. She knows that she could fall in love with him, but doesn't want to bring trouble to him.
I loved the development of the relationship between them. They can't stay away from each other. I loved the scene in the woods when Riley had followed her because he was worried about her being out alone. He is totally blown away when he finds her swimming, to the point where he doesn't notice what's around him. It was great seeing him have to trust her when he ended up in the water (he can't swim) and the sparks that flared when they were close. Riley continues to fall fast and hard for her, and is frustrated by her resistance to him. Cassandra comes to realize that she loves him, but protecting him and her family has her top priority. Her fears come to pass when the man from her past arrives in town and tries to pursue her again. Standing up to him brings the trouble she feared and she ends up in grave danger. I loved seeing Riley come to the rescue and finally put her fears to rest. The ending was terrific as Cassandra is able to believe that she and Riley can now have a future together.
There is excitement and tension as the men of the town work to set up a new town government. I loved the discussion between the older, more traditional men and the insistence of the younger ones that they can't repeat the past. Riley's power of the press brings trouble to his door, but with Cassandra's help they overcome it. His follow-up at the tavern was intense and I wondered for a bit how it was going to turn out.
The secondary characters were all fantastic too. Cassandra's two sisters each play important parts. Rose is kind of the peacemaker of the three sisters, quiet and a homebody. Brianne is just the opposite. She is young and impatient, and also rather self-centered. She believes that she deserves the finer things in life and has a plan to get them. I got a bit frustrated with her brazen attitude around Riley at the beginning and wanted either Cassandra or Riley to set her straight. I ached for Cassandra's father and the intense grief he still suffered from. His actions (inactions?) put his family at risk, but he couldn't seem to pull himself out of it.
I also loved Riley's connection to Ben Franklin and the story of how they met. It's obvious that the connection also had its effect on Riley's views and beliefs. I also loved the inclusion of Thomas Jefferson and his family. His love for his wife and his despair over her death were real. I liked how Cassandra helped move him forward. Now I want to go back and read the earlier books in the series.