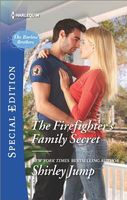 Series:
Barlow Brothers
(Book 4)
All it takes is one spark…
A month ago, Colton Barlow was a decorated Atlanta firefighter haunted by a tragic accident on the job. Now he's taking the grand tour of a North Carolina town he's never heard of -- and being welcomed into a family he didn't know existed! His newly discovered half brothers aren't the only ones making Colton feel right at home. If he isn't careful, Stone Gap -- and one winsome wedding planner -- could steal his heart.
Rachel Morris doesn't see many sexy strangers passing through her tiny Southern town. And falling for the hunky firefighter sure wasn't part of her life-on-hold plan. But is Colton here to stay? Are they both ready to say "I will" to a future together?
Good story about overcoming regrets and starting over. Colton came to Stone Gap at the end of the previous book,
The Tycoon's Proposal
, to see the father he never knew and meet his half brothers. He's been warmly welcomed by his brothers, though things are still rather awkward with his father. He's also on leave from his job as an Atlanta firefighter, where a tragic accident has left him wondering if he still belongs there.
Rachel has put her wedding planner business on the back burner since the death of her mother sent her father into a tailspin of depression. She is determined to run his hardware store until such time as he can go back to it, even if it means the death of her own dreams.
I loved the meeting between Rachel and Colton. He was sent to her store to buy a fishing rod for his interview with the town's fire chief. He's a bit confused by it, but Rachel helps him out. The two of them connect pretty quickly, even though neither is looking for a relationship. Rachel is far too busy looking after the store and her father, and Colton isn't sure he's even going to stay in Stone Gap.
I really loved the development of their relationship. They had so much in common, even though they didn't know it. Colton is haunted by the deaths of his two friends, feeling that he was responsible, that he wasn't fast enough or good enough to keep it from happening. He feels that his coworkers back in Atlanta either pity him or blame him, which makes it hard to go back to work. Rachel blames herself for not being there during her mother's illness and subsequent death. Because of that, she is determined to take care of her father for as long as he needs her. Both of them were having trouble moving forward with their lives. I loved seeing Colton try to help Rachel with her father. He had some experience dealing with depression in his mother, and put that knowledge to use. It was sweet to see the change it made in Ernie. Rachel sensed that there was something more going on with Colton, and that it had to do with his work, but was careful not to push too hard. As they got closer, both panicked a little bit, unsure if they are ready for a real relationship. A near tragedy gives Colton back a little of his self respect, and makes him realize that he wants Rachel in his life. That same event and its aftermath force Rachel to look at her life and face her fears. The question is, can each of them let go of the past enough to make a future together?
I loved the small town setting. There's the fire chief, who conducts interviews while fishing and bases his hiring "on a man's heart and soul instead of words on a paper." There are also all the people who have known each other all their lives, and have no trouble butting their noses in as they see fit. I loved seeing Rachel's friend Melissa try to "sell" Rachel's qualities to Colton. There was the occasional downside, as Colton's father worries about the effect Colton's presence and the potential gossip will have on his beloved wife, and the memories Rachel has of the gossip surrounding her mother. But when all is said and done, small town people are also there for each other in times of trouble, as shown when Ernie's store is damaged by fire. I can't wait for the next trip to Stone Gap.