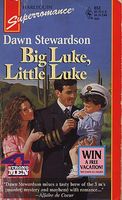 Series:
4 Strong Men
(Book 3)
Luke Dakota--His life was sent into a tailspin the day he learned that Mike Alexander, his buddy during Desert Storm, had committed suicide, leaving behind a wife and child-a child who'd been named Luke, after him.
Caitlin Alexander-With a business in the red and a child to raise alone, Caitlin had her share of trouble. And she still couldn't believe that Mike had killed himself! Then Luke Dakota arrived on the doorstep offering to help, and he brought back feelings she thought she'd buried with her husband ....
Luke soon found himself in over his head. He'd made the trip because Mike had been closer than a brother to him. But there was nothing brotherly about Luke's feelings for Caitlin!
Oldie but goodie. Luke is a navy pilot who is currently serving as a flight instructor for the navy. He is surprised to get a letter from the wife of a pilot who was his buddy during the war, telling him that her husband is dead. Furthermore, they had named their son after him. He's about to go on leave, so he decides to drop in and say hi, and also find out if they need anything.
Caitlin was three months pregnant when Mike died, and eighteen months later she's just starting to get her life back together. She and Mike had used their ranch as collateral for their flying business, and she and her business partner are barely making ends meet. She can't let it go under or she will lose everything. To make matters worse, she's not convinced that Mike killed himself, despite what the evidence says.
Caitlin is wary of Luke until she realizes that he's the man who had saved Mike's life during the war. That made it a bit easier for her to accept his offer of help when she found herself down a pilot. She also found herself opening up to him when she discovered that he was skeptical of the suicide explanation also.
Neither one expected the attraction that hit them as soon as they met. Caitlin is still battling her grief over Mike's death. Luke is wary of his feelings, as he's been burned in a previous relationship. Luke also feels an almost instant connection with Caitlin, which makes him feel a bit guilty at the beginning. It isn't long before he's thinking seriously about finding a way to keep seeing her after his leave is up. I thought that he was much more open to the idea much faster than she was.
I loved seeing them get closer as they worked to find out the truth about Mike's death. There was also a big streak of protectiveness in Luke, that really came out when little Luke got sick. I loved his support for Caitlin and how he was there for her. Caitlin was really moved by the way that Luke took to little Luke and how awesome they were together. The biggest complication was how to be together after he returns to Florida, especially with her situation with the flight school.
The mystery of Mike's death was very good. Caitlin's hunch that it wasn't a suicide put her at odds with local law enforcement, so she had pretty much given up pursuing it. There was one person in particular that she suspected, but there were also reasons that it couldn't be, The final confrontation was pretty intense. There were several twists before it was all done with the actual murderer being something of a surprise. I liked how it all ended and the epilogue was a nice wrap up.