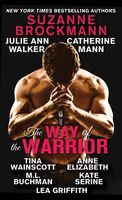 Read November 28, 2016
Hot as Hell by Julie Ann Walker
Series: Deep Six (Book .5)
Harper is working for the ambassador in Pakistan when their building comes under attack. She is scared but relatively calm, while the ambassador is frozen in fear. She tries to get him to go to the safe room but he barricades himself in his office instead. Harper heads for the safe room, at the same time putting in a call to the man she has been seeing, a Navy SEAL.
Michael is just coming back after a mission when his phone rings. He's been trying to reach Harper for two weeks, but she hasn't been taking his calls. He's thrilled to see her name on the ID, but when he hears the noises in the background he's afraid for her and determined to save her.
Harper and Michael had had one passionate night together before he left. He can't wait to pursue the feelings between them. Harper, on the other hand, had been a bit freaked out by the connection. She grew up listening to her mom cry whenever her dad left on a deployment and swore she'd never fall for a military man. She doesn't want to go through what her mom did, so she has been avoiding Michael's calls.
All she can think of during the attack and her time in the safe room is that Michael will save her. I loved the way that when the team arrived at the safe room they left Michael there to protect her while they secured the scene. Locked in the room together, Michael is determined that they will talk about what is going on. Once they get a certain something off their minds, they finally talk. Harper is still stubbornly sticking to her guns, when Michael fills her in on his plans for the future.
I liked Michael all the way through the story. He's strong and determined, but he also has a softer, more sensitive side. Harper was a little harder to like. Like the other men in his team, he is haunted by a mission that went wrong, which was the motivation for their change in future plans. I did like the way she kept her head during the attack. But I didn't care for the way that she was avoiding Michael's phone calls rather than telling him about her concerns. While I would have liked her to overcome her fears, she did stick with him at the end.
In Plain Sight by Catherine Mann
Series: Elite Force (Book 4.5)
Stacy is in her home when she hears someone trying to break in. She has been having trouble with her ex-husband stalking her, even being physically assaulted by him. Unfortunately, he was masked, so there was no proof. When she calls 911 for help, the man on the other end sounds like a former boyfriend. He keeps her calm while help is on the way.
Gavin is a former Air Force pararescueman who was injured in the line of duty. Now he puts those skills to use as a 911 operator. When he realizes it is Stacy on the other end of the line he is determined to make sure she is safe. When her attacker gets away again, Gavin makes plans to help her.
Stacy and Gavin had parted when she refused to uproot her life to follow a military man. When her marriage went bad, she was too ashamed to contact him. Just the same, Gavin was hurt when she married someone else and avoided checking up on her. Now they have a chance to reconnect, but there are some obstacles in the way.
Gavin's injury has made it impossible for him to continue what he was doing before, and he is still somewhat bitter over the loss of something so important to him. He also feels that he is no longer someone that a woman would be interested in. Stacy is ashamed of how she got sucked in by an abuser, and her self-worth is pretty shot. I loved the scene where she sees him again for the first time. She is surprised by what happened to him, but it doesn't change the way she feels about him. I loved how she called him on his attitude. I also loved her sensitivity, and found it incredibly moving when she described his dog to him.
Gavin is determined that her stalker gets caught, so he calls a couple friends from his air force days to come help him set a trap. I loved seeing how they set everything up, trying to take advantage of every opportunity. I understood Gavin's frustration that he couldn't be more hands-on. When the final confrontation came, it had a surprise twist to it. I loved seeing Gavin and Stacy working together, and how it accelerated their getting together.
I loved seeing Franco and McCabe from earlier Elite Force books.
Torn by Kate SeRine
Series: Protect and Serve (Book .5)
Joe is former army, who was injured by and IED. It has taken him eighteen months to get even close to physically fit again. He is back home, getting ready to return to his job as a deputy, but has a few qualms. He is still suffering from PTSD and worries that he will freeze at the wrong time. He also has a feeling that his fellow deputies have the same concerns.
Sadie is a high school English teacher and has been friends with Joe for a long time. She was there for him while he was recovering and is still making her presence known in his life.
Joe has been in love with Sadie for years, but hasn't wanted to mess up their friendship. He doesn't know that she feels the same about him. He's very self-conscious about his scars and his PTSD, and feels that he isn't a good bet any longer, so he's been keeping things friendly. But a smoking hot kiss between them breaks through that wall, though he pushes her away right after. That might have been the end, but then a stalker leaves a grisly gift on her car seat, and Joe goes into protector mode.
I loved seeing him make himself her bodyguard, and how they worked together to try to find out who is behind the threats. The final confrontation was really intense, and Joe worried about how he would handle it. I loved seeing him blow them all away with his actions.
Their switch from friends to lovers happened pretty quickly, accelerated by the situation. I really liked how they were both able to admit their feelings. It was sweet to see how Sadie had always considered him to be a hero, even though Joe never saw it. And as shown in the prologue and again in the epilogue, he had always thought of her as a beacon of light in his darkness.
War Games by Lea Griffith
Series: Endgame Ops (Book .5)
Rook is in prison, accused of killing is spec ops teammates. One of the men who died was Vivi's brother, who told her before his death that Rook is the most honorable man he knows and that there's no way he could have done what they accused him of. Vivi is a CIA employee who has some interesting connections, and she is determined that he have a chance to prove his innocence. So she uses those connections to break him out.
Rook is furious at being trapped in prison and accused of killing his teammates. He is also suffering from survivor's guilt from being the only one who lived, even though he lost a leg in the process. He definitely gives off really dangerous vibes when Vivi arrives to see him. He can't believe what she plans to do, and is astounded when she pulls it off.
I loved seeing all the steps that she took, with help from her contacts, to make everything go as smoothly as it did. It went really well until they reached the meeting point when everything fell apart. There were a couple surprise twists involving participants in that meeting, one of which sent Rook into quite a tailspin.
When it was all over, Vivi was sent back to her job at the CIA, making her very unhappy that she was leaving Rook behind. I loved that she didn't just sit there at her desk, but continued to do what she did best. When Rook showed up to tell her a last goodbye before he left, he got quite a shock when he tried. Turned out she had been extra busy and had a surprise for him.
Though they had never met before, thanks to learning about each other through her brother, they had quite a connection from the beginning. Because of what he's been through, Rook is pretty wary, but Vivi has no problem going after what she wants. I expect there will be more of them in later books, as this relationship has barely started.
Beauty and the Marine by Tina Wainscott
Series: Justiss Alliance (Book 3.5)
Griff is a Marine who was badly injured in an explosion. After recovering, his feelings about his scars sent him fleeing to his family's remote mudding "resort" where he wouldn't have to deal with people staring. While there, a friend who now runs a security agency asked for his help trapping a man who is stalking a model.
Kristy is a beautiful woman who ran afoul of some nutcase. Her last encounter with him was when, angry after she modelled underwear, attacked her and sliced up her body so she couldn't do that any longer. Even though her face is undamaged, she hasn't been able to go back to work. Even though she moved, he eventually found her again, still making threats, so she suggested to the police that they set a trap. Enter the security agency.
The plan is to film commercials for a fake reality show, featuring Kristy in a lot of intriguing situations. Griff is her partner, with two other couples from the agency to make it look real. Griff and Kristy are attracted to each other right away. Their activities during the filming just ramp up the intensity. Griff tries his best to push Kristy away, because someone as beautiful as she is doesn't deserve a "beast" like him. He can't believe that his scars don't bother her. Kristy is dealing with her own scars, even though they aren't visible, and understands exactly what Griff is going through. I loved her efforts to show him that she sees past his scars to the man he is. They act on that attraction right before she goes back to Atlanta, but he continues to push her away. Kristy invites Griff to come see her in Atlanta, and even tells him how to do it without encountering anyone, but Griff refuses.
The trap for the stalker is set, but no one expects it to yield results immediately. Kristy is stunned when the stalker takes the bait the first day. His identity is quite a shock to her, and I admit that I never saw it coming. She's sure that she's going to die, but unknown to her, Griff is on the way to see her. The confrontation with the stalker was really intense, and I loved seeing Griff in action. It was great to see him realize just how much he had to lose if he stayed away from her.
NSDQ by M.L. Buchman
Series: Nightstalker
Lois is an army Blackhawk pilot who flies combat search and rescue missions. She has the nickname of "Superwoman" because of her name and her mad flying skills. During her last mission her chopper was hit and crashed. Everyone survived by she lost part of her leg. Now she has recovered and is getting used to her new life, but is miserable about losing her ability to fly. I ached for her and her feelings of loss and confusion about her future. One day she runs into Kendall Clark, one of the civilian training instructors.
Kendall (who she refers to as Clark) is a nice guy, a bit geeky and quiet. He's known Lois for two years. I loved their first encounter since her injury, as his engineer interest in her leg gets them through the first awkward moments. He then takes his courage in hand and asks her out to dinner.
I loved their dinner out and seeing how Clark treats her like the beautiful woman she is. Lois is a little puzzled by it, having been expecting a "pity date" rather than a real outing. It's obvious he has a real interest in her, but has never shown it before. Lois has started looking at him as a man rather than a coworker and she likes what she sees. When the dinner is over she teases him into a goodnight kiss and is blown away by the experience. While part of them wants to continue the experience, both have issues that hold them back. I loved seeing how Clark gave her the space she needed to make her decision.
There's also a part of Clark that understands Lois's problems with dealing with her loss of flying. I loved how he gave her a bit of it back, hoping she'd see the possibilities. Over the next few weeks he tried harder, but Lois resisted his efforts. I loved his big moment at the end, as he takes a big risk to show her how much he cares.
SEALed with Passion by Anne Elizabeth
Series: West Coast Navy SEALs (Book 3.5)
Jonah is on leave from the SEALs after a particularly tough mission, and heads to his best friend Kevin's house. It is a new house being built by the Wounded Warriors group, and Jonah is happy to be able to help. He doesn't expect that the first person he sees is Alisha. She had been maid of honor and Jonah best man at Kevin's wedding. During the prep time for that wedding he and Alisha had gotten close, finishing off the wedding with a passionate night together. But then Jonah left and never contacted her again.
Alisha is the interior decorator for the house and is stunned to see Jonah walk through the door. She is still hurt and angry at him, years later. She's also still very attracted, as she discovers when he catches her as she falls off the ladder.
I loved seeing both Jonah and Alisha pump their friends for information about each other. It's obvious that they still care about each other and their friends can see it. Jonah and Alisha end up being the last ones in the house to finish it off and take the time to talk. I loved seeing them clear the air and see how things overheard can be misunderstood. What followed next was fun and hot as they proceeded to get caught up on each other's lives, with some extra "talking" going on too. It was awesome to see them talk of their future together. Jonah's proposal and Alisha's reaction were great.
I loved the ending which was lots of fun, both with Julie's surprise for Kevin and the arrival of Jonah's sisters.
Home Fire Inferno by Suzanne Brockmann
Series: Troubleshooters (Book 16.7)
Jenn, who's married to Dan is a bit more than 8 months pregnant. She goes with Eden (Breaking the Rules) when Eden has to identify her stepfather's body. On the way back to San Diego their car breaks down and the Jenn goes into labor. The SEAL team is on call, and Jenn refuses to call Dan and tell him what is going on. Instead, in a roundabout way, Eden finds a way to get help.
There were three storylines going on here, all of them intertwined. First was Jenn and Eden, and Jenn's going into labor while they are stranded on the side of the road. Second is what is happening with the team, as they sit around waiting to see if they will be needed. Third is the story of Jay, the injured member of the team, who is holding down the fort back in San Diego.
With the ladies' story the immediate need is to get help. They are in an area where cell coverage is spotty and are unable to call directly. Eden isn't happy about Jenn's refusal to call Dan, but she understands the reason. Not wanting to risk Jenn's health, instead Eden calls one of the other SEALs to see if they can get them the help they need.
The guys are all sitting around the airport in Japan, bored because nothing is happening. Dan goes to Izzy and tells him he needs to call Eden because she's with Jenn and he just had a weird call with her and wants Izzy to check up on them. Izzy figures that Dan is just being a paranoid new father to be and works on talking him down. Then he notices several of the senior SEALs on phones and giving them strange looks and knows that something is up.
Meanwhile, Jay has been tasked with filling in for fellow teammate Mofo at his daughter's career day. Jay, who is a good looking guy and knows it, immediately notices the cute teacher. His mind is half on the job at hand and half on checking out the teacher. Then he gets a message calling him to action to help Jenn (he's the team medic) and finds Carol at his elbow, ready to help.
What happens next is a terrific example of how close team members, their families and their friends are, and how they come together in a crisis. Besides the current team members, there are also appearances by Jules Cassidy, Tom and Kelly Paoletti, Adam, and assorted others as they put together a rescue.
The ending is fantastic. I loved the scene in the airport as Dan gets the news (with an unexpected twist) and the team gets the stand down order, freeing Dan to get to Jenn as quickly as he can. Seeing Izzy make that happen was pretty funny, but also sweet. The scene at the hospital was great too, as Dan finally makes it back to Jenn. There's also a fun scene as Carol arrives with Mofo's daughter, and Jay sees the light as to where Carol's interest really lies. I felt a little sorry for him, but loved what he did to try to help them along. The last few lines of the story were great.