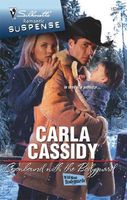 Series Wild West Bodyguards (Book 6)
Her shelter from the storm
She'd been stranded by a snowstorm with nowhere to turn. But when all seemed lost, mom-on-the-run Janette Black saw the sign for Wild West Protective Services--and found Dalton West.
The loner of the West clan had no time for love and family. But protecting was in Dalton's blood--and he knew when a woman carried secrets. He would take Janette and her baby into his home to wait out the storm, and bar the door from any danger. And when Janette's demons tracked her down, Dalton would take on hell itself to keep her safe from harm.
Good book. Janette is a waitress at a small café in a small town. She hasn't had an easy life, abandoned by her mother and raised by her grandmother. She quit school to take care of her grandmother when she became ill, but was determined to get her GED. At the beginning of the book, Janette is working her job at the café when the local sheriff comes in. He shows an inordinate amount of interest in the fact that she has a five month old son, terrifying Janette with his questions. There's definitely a feeling that there is history of some kind between them.
The next thing we see is that Janette has taken her son Sammy and is at the bus station in a town thirty miles away. She is determined to get as far away from the sheriff as she can. Unfortunately, the weather is working against her and the bus isn't running. Alone, with little money, she's not sure what to do until she sees a light shining through the snow. The building is West Protective Services and she remembers an article in the paper about how they helped someone. Taking a chance, she enters and asks for help.
Dalton has been working in the office almost exclusively for several months. After a bodyguard job that became more, and then ended, he's been avoiding getting involved with any other people. When Janette shows up, needing a place to stay for the night, and claiming she needs protection, he is reluctant to get involved. But something about her won't let him turn his back either.
Both Janette and Dalton are wary of each other and their circumstances. He suspects that what she tells him isn't the whole truth, but he'll take care of her for the few hours he needs to. When the storm turns out to be worse than expected, they are stuck with each other's company. Thanks to a nightmare, Janette opens up a little more about her problems, but still doesn't tell the whole truth until forced to do so by the arrival of the sheriff asking questions.
I liked the way that Dalton listened to what Janette had to tell him and didn't judge her. It was wonderful to see that, not only did he believe her, he was determined to keep her safe. Though he has insisted on being a loner for awhile, suddenly having Janette and Sammy around opens his eyes to how lonely his life has become. I loved seeing Sammy wiggle his way into Dalton's heart. I also liked the way that Dalton was so impressed by Janette's strength of will.
I liked Janette's devotion to her grandmother and her son. I was a bit worried about her at one point when she wanted to keep running as I thought she was stronger than that. She battled with herself as she tried to decide what to do, and I loved seeing the right thing come out on top.
The relationship between them developed really fast. I loved Dalton's reaction to what happened to her, and how gentle he was with her after he found out. The scene between them when he lets her be in charge was great. He's still intent on keeping her at a distance emotionally because he doesn't want to repeat the pain of his last relationship. Janette falls for him too, but believes that he wouldn't want something permanent with someone like her. I liked when he finally realized the truth and opened up completely to her.
The suspense of the story was really good. Sheriff Sinclair was an especially nasty kind of guy. His sense that he could do anything he wanted and get away with it made him really obnoxious. I liked seeing Dalton go up against him, and the vast difference in their attitudes. It was nervewracking to see how Sinclair used his office to pursue her, and how he even got Dalton's brother involved. The final confrontation was very intense, with me wondering how close it was going to be before Janette would be safe. The epilogue was a nice wrap up.