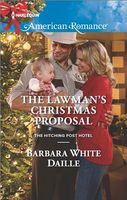 Series:
Hitching Post Hotel
(Book 3)
A husband for Christmas?
Mitch Weston's back in Cowboy Creek, and self-proclaimed matchmaker Jed Garland has his single granddaughter Andi on his mind. Mitch is a lawman, good with the little ones and easy on the eyes. He and Andi were high school sweethearts, for heaven's sake! Why can't they see they're perfect for each other?
Because Andi already lost one husband to a dangerous job, and now she's all about playing it safe, for her sake and her children's. Being a cop is everything to Mitch. After discovering Jed's plan, Mitch and Andi come up with their own: they'll pretend to get engaged and then break up due to irreconcilable differences. Jed's got his work cut out for him -- because this match needs a Christmas miracle!
Very good book. Andi has brought her two kids back home to Cowboy Creek for an extended visit after the death of her husband. Part of her time will be spent working as a wedding planner for the family business. She's still trying to deal with the truth behind her husband's death and the fallout from it. Dealing with her grandfather's matchmaking ways is not something she wants to do, but when her high school sweetheart comes back to town, she doesn't have a choice.
Mitch left Cowboy Creek years ago to become a cop in Los Angeles. At the time, he was also escaping a broken heart. Now he's back, recovering from an injury received in the line of duty and trying to deal with his guilty feelings over the death of his partner. Seeing the woman who broke his heart all those years ago is the last thing he needs.
Mitch was still harboring a lot of anger from their parting as teenagers, and he was ready to let it loose when he saw Andi for the first time. That anger swiftly dissipated when he finally got the explanation of what happened, though honestly I didn't understand her reasons at all. Be that as it may, both of them had moved on with their lives, though tragedy has brought them back together. It quickly becomes obvious to them both that the attraction is still there, but neither wants to do anything about it.
Enter Andi's grandfather, Jed. He's been very successful getting his other two granddaughters matched up, and now he's decided to help Andi along. Simply on his memories of them as teenagers, he has decided that Mitch and Andi are a perfect match. Even before seeing them together as adults, he has made his plans. Not only does he find multiple creative ways to throw them together, he has enlisted help in doing it. One of those helpers came as a surprise to me.
The development of their relationship was not an easy one. Mitch is a great guy, wonderful with her kids, and happy to help with the things he's asked to do. He is definitely still attracted to Andi, but is avoiding any idea of a relationship with her. He no longer trusts his instincts thanks to what happened on the job. He has also buried his feelings about what happened and refuses to talk about it with anyone. Andi senses that something is wrong, but he dodges every time she tries to get him to open up to her.
He does trust one instinct and that's the one that tells him that something is eating at Andi. Though he doesn't want to talk about his feelings, he has no trouble pestering her about hers. Andi's issues are complex, but all stem from her husband's death. One of the biggest of those issues is her refusal to get involved with anyone who has a dangerous job, as she doesn't want to suffer that kind of loss again.
Both are dismayed by Jed's matchmaking attempts, but rather than stand up to him, they decide to pretend to give in. They stage a fake engagement that is supposed to give them the space to escape his machinations. Instead, they find themselves wishing it could be real. Unfortunately, their fears keep them from seeing the possibilities. Both of them have to find a way to overcome those fears if they want to have a future together. I have to say that Mitch's solution was not a surprise, given his background. I liked his realization that just talking to Andi had helped him sort through his feelings, though it took a visit back to LA to see it. I loved seeing who helped Andi with hers. The ending was really sweet.