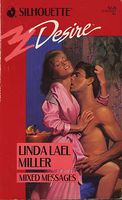 NOT JUST ANOTHER PRETTY FACE
Carly Barnett was determined to show the world she was not just another beauty queen pageant bimbo. Journalism was her lifelong dream, and she was determined to make it come true--despite top reporter Mark Holbrook's disdain. The infuriatingly sexy man had a Pulitzer Prize while Carly had an advice column. And he never let her forget it!
At first, Mark had looked down his nose at Carly. After all, her "talent" had been twirling a pair of flaming batons! Still, one glimpse of her big blue eyes made Mark decide to give her the break she asked for. Soon he was head over heels and determined to teach Carly a thing or two about the business--of love.
This one was okay, but not one of my favorites. Carly is a former beauty pageant winner (scholarship opportunity?) but is trying to move past that image. She graduated from college with a degree in journalism, anxious to make her dream come true. Hired to work at a Portland newspaper, on the way to Portland from Kansas she happens to meet their top reporter. Though sexy as can be, his rather condescending attitude toward her grates on her nerves.
I have to admit that, like Carly, Mark's attitude bugged me. There was more to her than her pageant activities and he knew it very quickly, but frequently brought them up. He was definitely attracted to her and had no problem with letting her know it. I also felt as if Carly was a bit naive, and that he took advantage of that. Within a few days he had overwhelmed her reservations and they started a hot and heavy affair. There were quite a few times when he seemed determined to be in control of her and her reactions, even when she tried to put him off. It wasn't quite a case of force or intimidation, but at times it felt close. There were also times that I really liked him, such as when he encouraged her to go after a story she was interested in. I really liked his devotion to his son.
The development of their relationship was really fast, and seemed to be based mainly on their physical intimacy. Carly was pretty open about what she wants from life. I liked seeing her attempts to stand up against his attitudes, even though I thought she gave in more than she should. I liked seeing her try to get Mark to open up more with her. She got a pretty good idea of what some of his issues were when she found the play that he wrote, though he didn't have the reaction she had hoped for. That play creates some trouble between them when she takes him at his word about it. In the time they spend together, Mark seems to be ready to push things along really quickly. But a crisis involving his son and ex-wife, on top of a misunderstanding about his play, drives them apart.
I ached for Carly's unhappiness, and cheered for her determination not to let it wreck her life. I loved the description of the raft trip she reported on, and how she toughed things out. She discovered a twist to her life plan part way through the trip, but took it right in stride. I also loved the new friend she made, and the opportunity she was offered because of it.
I felt a little bit sorry for Mark because he was so miserable, but he brought it on himself. He finally admitted his feelings and that he needed her, but convincing her wasn't as easy as he thought it would be. It was nice to see that he had to work a little for her forgiveness. I enjoyed the glimpse of their lives a year later, and especially loved the ending.