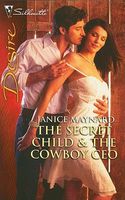 With a disposition as untamed as the Wyoming landscape, Trent Sinclair was not known as the forgiving sort. He had certainly never forgiven Bryn Matthews and her lies. The CEO had turned his back on her, though not without another thought, when she'd claimed his brother had gotten her pregnant.
But now Trent's brother was gone and Bryn had returned…with a child he could not deny was pure Sinclair. Nor could he ignore the passion that had always coursed between them. Had the time finally come for Trent to take what he had always wanted -- family and honor be damned?
Good book about family secrets and second chances. Bryn had been raised on the Sinclair ranch, where her parents worked, and taken in by them when her parents were killed. When she was eighteen, she became pregnant with the youngest son's baby, but no one believed her. Sent away to another relative, she went on with her life and taking care of her son. When the patriarch of the family has a heart attack, he invites Bryn back to the ranch, wanting to mend fences with her. She only goes in order to see that her son is acknowledged as a Sinclair.
Trent had been furious at her lies six years earlier, and is in no mood to see her back on the ranch trying to worm her way back in. He doesn't trust her motives and is determined to keep a close eye on her. He didn't expect to feel the same attraction that he had before.
Bryn had had a crush on Trent while she was growing up. He was a few years older and though attracted to her was far more interested in his own life and plans for his future. He wasn't particularly kind or sensitive when he turned down her invitation to her senior prom, and she ended up turning to his youngest brother Jesse. Their relationship was short lived, ending when she got pregnant and he denied any chance that it was his. Being back on the ranch raises both good and bad memories, including her feelings for Trent. She fights the attraction, wanting nothing to do with someone who doesn't trust her.
The sparks flew between them from the moment Bryn arrived. The attraction boiled below, while on the surface they tried to be civil. Neither wanted to cause more distress for Trent's father, Mac, while he recovered, but it was a real struggle. The family is in shock over Jesse's death by drug overdose, with none of his brothers believing it. Trent is struggling especially hard with the knowledge, and it only gets worse as he delves into the business side of the ranch and finds more evidence. Meanwhile, Bryn also makes a disturbing discovery involving Jesse, one that could further destroy his family's view of him.
The development of their relationship was pretty fast, thanks in part to having known each other for so long. The biggest obstacle between them was the truth about Bryn's son. I liked seeing Bryn hold her ground and not cave in to Trent's attitude. I felt badly for him as more of the truth about Jesse came to the surface and he had to deal with his feelings. I really felt that Mac had done his family no favors by keeping quiet about Jesse's problems. But that was nothing compared to the other secret he'd been keeping, one that left Trent reeling. When Bryn's son gets sick, I loved seeing how Trent and Mac rallied behind her, even believing what they had. I loved their reaction when they brought young Allen to the ranch. It helped Trent realize his feelings, but he remained a bit clueless on how to handle them. It was rather satisfying to see that Bryn didn't just fall into his arms, and that he had to work at it a bit to get the future they both wanted.