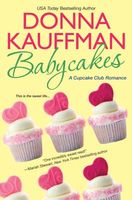 Series:
Cupcake Club
(Book 3)
It's Christmas on Georgia's charming Sugarberry Island - and there's no better time to enjoy delicious confections...and the sweet thrill of falling in love...
Molten Chocolate...Cinnamon Spice...Gingerbread...Old-Fashioned Vanilla...You can't stop at just one. And the women of the Cupcake Club love to indulge...
Kit Bellamy was raised on pie. Mamie Sue's "Peanut Pies", to be exact, the family company her scheming brother-in-law sold out from under her. Now Kit needs a new recipe for her life - and sleepy Sugarberry Island is the first ingredient. Running mail-order cupcake business Babycakes is a chance to get her baking on again - until she meets tall, dark, and adorable lawyer Morgan Westlake. New to the island to raise his goddaughter, he's as mouth-watering as any of Kit's creations. It's just her luck that he's the spawn of the very law firm that helped crush her dreams...Fortunately, Kit's new friends can assure her that Morgan is no typical Westlake - and that even lawyers, not to mention single dads, need romance. If Kit can just be persuaded to follow her appetite - and set another place at her holiday table - her sweetest dreams just might come true...
Good book. After her brother-in-law sold Kit's family company out from under her, with the help of the cut-throat Westlake law firm, Kit needs a new start in her life. A friend has offered her a job with her cupcake business on Sugarberry Island, so off she goes.
Morgan Westlake is raising his niece after the deaths of his brother and sister-in-law. He is a lawyer from a well known family, but he has separated himself from them for many reasons. He has come to Sugarberry Island to raise Lilly close to her other grandmother and away from the influence of his own family.
There are sparks between Kit and Morgan from the moment they met, but Kit is especially reluctant to get involved. First, he is a member of that family and that's hard to get past. Second, she has a hard time trusting her own judgment. She feels that she let down family tradition as well as all the people who worked for the company. She worries about getting involved with him and then letting him and Lilly down as well. Morgan is determined to give Lilly the childhood she deserves, and worries that he's going to mess things up.
I loved the development of their romance. Morgan is hooked from the beginning, but understands Kit's wariness. He is patient and willing to let them become friends first. They spend a lot of time together with little Lilly, doing things at the turtle research center. Kit begins to see that Morgan is nothing like the rest of his family, and lets down her walls. The feelings and attraction between them really start to heat up. Things are moving along at a steady pace for them when Morgan's mother shows up. I loved how Morgan stood up to her, and how his feelings for Kit were a big part of his motivation to do so. Kit finally realized that what they had was real and that leaning on Morgan
A big part of the story is Morgan's guardianship of Lilly. I loved how he was part of her life from the beginning, but becoming her parent has him all tied up in knots. It was sweet to see how determined he was to break her out of the cage she was in, thanks to his mother. I really liked seeing her go from timid and shy to a much more typical five year old. Her fascination with the sea turtles was sweet. I loved how a big part of Morgan's decision to come to Sugarberry was so that Lilly could get to know her other grandmother.
Once again, the members of the Cupcake Club play their parts in Morgan and Kit's romance. None of them have any trouble "nudging" them along the path they think should be taken. There are some really funny scenes, especially involving Alva, as they do their own kind of matchmaking. I loved how they pulled Kit right into their group and made her one of their own. The group plan for Thanksgiving was terrific, and even better was when they jumped in to help when there was a crisis with the turtles.
One of the things I like best about this series is that the characters aren't perfect. Morgan and Kit obviously have their problems. Introducing Lilly to her Grandmother Birdie doesn't go as smoothly as they had all hoped, which is more realistic than them bonding right away. Secondary couple Olivia and Carlo are having their own problems thanks to cultural differences. But no matter what is happening, they support each other in times of trouble.