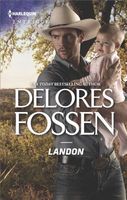 Series:
Lawmen of Silver Creek Ranch
(Book 9)
After returning home to investigate a brutal murder, Detective Landon Ryland is shocked to learn the body was discovered in the home of Tessa Sinclair, a woman he once knew intimately. Seeing Tessa again is like a jolt to his heart. Too bad the beautiful brunette has no idea who she is -- or why she's cradling a newborn. With evidence pointing toward Tessa and the baby being next on the killer's hit list, Landon refuses to leave their safety in anyone else's hands. Or admit that losing them would permanently destroy the future he secretly envisioned.
An exciting return to Silver Creek. Landon has given up his job in the city police department to return home to Silver Creek and become part of the sheriff's department there. He wants to help find out who murdered one of his cousins, leaving a note on the body that "this one's for you, Landon". A prime suspect is Tessa Sinclair, in whose house the body was found, and who is currently missing. Not something he wants to hear about a woman he had gotten very close to.
Leaving Emmet's funeral, Landon discovers an abandoned barn on fire, and Tessa's unconscious body inside. He barely gets her out in time, only to find that she is also holding a newborn baby. Stunned to see her and a baby, Landon has questions for her that Tessa is unable to answer.
When Tessa regains consciousness she has no idea who she is, where she is, or what has happened to her. After a trip to the hospital, a blow to the head and a body full of drugs explains how, but not why. Her memory begins to return, but there are holes in it.
From here begins a wild ride of a story. Someone shoots at Landon and Tessa before they even leave the hospital, and again at the sheriff's office. As Tessa remembers more, she tells Landon that she had been looking for proof that her boss was involved in something crooked. There's a federal agent she's been working with who she isn't sure is on the up-and-up. She is also caring for the infant daughter of a friend, who is running from an abusive ex. For his part, Landon has the murder of his cousin, which appears to be tied to him. And the belief that one of his former arrests, now out on parole, is responsible for it. The question becomes, are the two cases linked somehow?
It seems that Landon and Tessa can barely catch a break. Attacks on them come fast and furious as they try to find out who is trying to kill her. And what does baby Samantha have to do with any of it? There are multiple persons of interest, leading to great confusion over just what is going on. There is Joel, Tessa's former boss, who may be guilty of anything from drug trafficking to murder. There is Quincy, the felon that Landon locked up, who is now free on parole. He was injured in a prison fight and is confined to a wheelchair, but that hasn't improved his attitude any. Then Ward, who is supposed to be one of the good guys, but seems awfully intent on putting the blame on Tessa. And who is Courtney, and who is really little Samantha's father? The final confrontation was intense, with enough twists and turns to make me dizzy. I wasn't sure from one minute to the next who was really responsible, though I did have my suspicions.
Throughout it all, the attraction they felt before continues to grow. Landon isn't happy about it because he's not so sure she can be trusted, at least at first. He's also too intent on his investigation to want a relationship. Tessa knows she can trust him (at least after the drugs have worn off) but believes that she is putting him in danger. I loved seeing them try to protect each other as things blew up around them, and their feelings grow in spite of the danger. Tessa admits to her feelings first, but it's Landon's realization, and his cousins' reactions and comments that I liked most. I loved the ending.
I loved seeing all the Rylands together as they worked to solve the case. It seemed like old times, right down to Mason's grumpiness and Grayson's leadership.