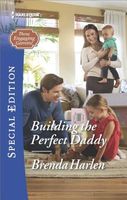 Read November 30, 2016
Series:
Those Engaging Garretts
(Book 10)
Ryder to the Rescue!
On location for his home-improvement show, "America's Hottest Handyman" Ryder Wallace has his hands full with the station's contest winner. Lauryn Schulte is a single mom with a falling-down house, a failing business and two kids under four -- exactly the kind of woman that has this playboy running for the hills…but not this time. Not when her little girl has him playing tea party, building castles and cuddling her baby brother.
And Lauryn? She torments his libido in ways that should be outlawed. Ryder doesn't do relationships with strings -- but Lauryn has him tied up in knots. He's got to cut and run. So why does he keep getting tangled up in the most outrageous idea of all -- becoming a husband and a daddy?
Very good book. Lauryn is a single mom of two kids who is about at the end of her rope. Her ex-husband left even before their son was born, taking all their savings and leaving her with a failing business and a lot of debt. She's living in their fixer-upper house that never had any of the promised fixing up. She's more than a little stunned when she answers the door one day to find Ryder Wallace of the Ryder to the Rescue home improvement show on her doorstep, telling her she'd won the kitchen remodel that she'd entered for. Problem is, she hadn't entered any contest.
Ryder is more than a little surprised when she slams the door in his face. Not one to give up, he sends the camera crew home, and sits on the porch waiting for her to come out again. Once she does, they work to find out who would have entered in her name (not hard to figure out) and what to do about it. Ryder is pretty persuasive, especially when a thunderstorm brings out the leaks in her roof, and he offers a compromise on the kitchen renovation.
I loved the development of the relationship between two people who had no expectation or desire for such a thing. Lauryn is still dealing with the fallout from her marriage and doesn't trust herself to be any smarter in a new relationship. Plus, she has no intention of exposing her kids to someone else who will let them down. Ryder is a product of his parents' dysfunctional marriage, two people who never should have had children. He has been the carefree bachelor, avoiding relationships because he believes that he doesn't have it in his genes. Neither expected the sparks that sizzled between them. But it wasn't just sparks of attraction that drew them together.
Ryder is immediately captured by Lauryn's children. Though he has studiously avoided women with children in the past, he can't stay away from Lauryn and hers. I loved seeing him playing dolls with Kylie and reading stories to Zack. It seemed like he was finding any excuse to spend time with them, which surprised him quite a lot. He also began to realize that the dating scene was beginning to get old, and that maybe he was ready for something more.
Lauryn doesn't understand what a guy like Ryder sees in her and her kids. She knows what she sees in him. The heat that grows between them each time they see each other is plain enough. But she also sees a man who is a far better father to her kids than her husband ever was, which speaks to her heart even more than his undeniable sexiness.
I loved seeing them move from a "for as long as we want to continue" relationship to something much deeper. Ryder is especially surprised, but amazingly ready to move on to the next stage of his life, as long as Lauryn is part of it. Things are looking pretty good for the two of them until Lauryn's ex arrives back in town. Suddenly Ryder is a bit more insecure about what they have than he thought. Lauryn unthinkingly adds to that with a careless remark, and he suddenly wonders if the future he dreamed of was gone. I wasn't happy with Lauryn when she spoke so carelessly, but she did redeem herself. I loved seeing her stand up to her ex. But Lauryn ran into her own bit of insecurity when she overheard two of the crew talking about their next project. I was a bit worried about a relationship meltdown, but some actual conversation brought a solution that Lauryn hadn't seen coming. A sweet Christmas morning epilogue scene between Ryder and Kylie brought the story to a heartwarming close.
I loved appearances by other Garretts, especially Jordyn and Tristyn. The two sisters were Lauryn's biggest supporters, but they also had no problem butting in when they thought it was needed. Such a big, loving family was a great example for Ryder, who had no experience with it. I can't wait for the next one.