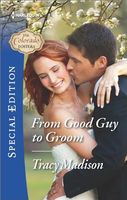 Read December 5, 2016
Series:
Colorado Fosters
(Book 6)
FALLING IN LOVE IS THE BEST MEDICINE!
A summer in Steamboat Springs could be just what the doctor ordered for injured trauma nurse Andrea Caputo…especially when she meets her sexy, deeply caring physical therapist. Ryan Bradshaw has a unique, hands-on approach to healing…inside and out.
Ryan was looking for a fresh start in this scenic Colorado town. Now he has a new mission possible. It's an undeniable thrill taking Andi horseback riding and slow dancing together. Doesn't this beautiful, independent woman who has never relied on anyone but herself know that no matter what happens, he'll always be there to catch her? All Andi has to do is trust in their growing feelings and take that leap of faith with him. Then the sky's the limit!
Good book. It opens with a scary and intense scene. Andrea is working as a trauma nurse when a gunman enters the ER and begins shooting. A doctor friend is shot and as she rushes to help him she gets shot also. She has to decide whether to continue toward him or find her way to a safe spot where she can call for help. The next chapter starts six months later. Andrea is recovering from her injuries, but needs an escape from the memories, people who are too curious for her comfort, and her hovering family. So she has come to stay with her aunt and uncle in Steamboat Springs. There she will continue her physical therapy and hopefully escape the memories that won't let her sleep. Her new physical therapist is Ryan.
Ryan is relatively new to Steamboat Springs. His parents live there and he recently relocated from Denver and opened his own practice. Besides leaving a failed relationship behind, he's also escaping an occasional feeling of burnout. In Steamboat Springs he finds a less hectic lifestyle, activities that feed his soul, and a revitalization of his love for his career.
When he meets Andrea he is struck by a sense of fragility under the strength and stubbornness she shows him. They butt heads a bit during the first appointment, as he wants more than just physical information. He's of the firm opinion that mental and emotional condition also contribute to progress. Andrea may agree with him, but she's not ready to share that info and digs in her heels. I loved that he backs off but lets her know he isn't going to give up. There is also an instant connection between them, one that surprises Ryan but intrigues him, and one that Andrea does her best to ignore.
I loved the development of their relationship. Ryan uses sensitivity and patience to help her, both physically and mentally. There's a wonderful scene at the fair where he pushes her a little bit out of her comfort zone and later helps her through a flashback/panic attack. Andrea is independent and stubborn and determined to work through her issues herself, but finds herself leaning on Ryan more than she expects. I loved seeing them grow closer, with Ryan falling hard and fast for the woman he sees beneath the trauma. Andrea is far more wary, worried that what she feels is just gratitude of a patient for a caregiver (she's been on the receiving end of some of that before) and doesn't want to risk hurting both of them. Just as things are moving along nicely, something Ryan says brings back all her insecurities and she pushes him away. It isn't until she faces her demons in a very emotional scene that she can see the truth. I loved her big moment at the end, as she showed Ryan just how she feels.