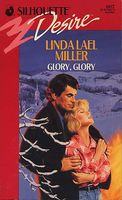 FIRST LOVE...ONLY LOVE
Eight years ago, Glory Parsons had said goodbye to her first love, Jesse Bainbridge. She'd been forced to flee her hometown--and leave behind the man who'd stolen her heart. But he would never know about the heartbreaking price she'd paid--or about the child born of their fiery union...the child she so desperately longed to find.
Jesse had once wanted Glory with all the passion in his soul. She'd been his whole world--until she walked out on him and their dreams without a backward glance. Now she was back with shocking news that would change his life forever. Could he trust the only woman who'd betrayed him--the only woman he could ever love?
Oldie but goodie, and highly emotional. Glory is returning to Pearl River for the first time since her brother's funeral eight years earlier. She'd been forced to leave, breaking her heart and her boyfriend's, but given no choice. She's back for a brief visit, to see her mother married, then moving on from a new heartbreak. But there's one thing she wants to find out before she leaves - what happened to the baby girl she had and gave up for adoption.
She didn't expect Jesse to be the first person she saw when she arrived back in town, or the sparks that flew between them. Likewise, Jesse was stunned to see Glory, and not happy to see the woman who had broken his heart. A heated confrontation ends in a scorching kiss that shows them both that the past is still alive and well.
Then Glory makes the startling discovery that her baby girl had been adopted by Jesse's older brother and his wife. They were recently killed in an airplane crash, leaving Liza in Jesse's custody. Glory is convinced that Jesse was in on his grandfather's scheme the whole time, while Jesse is stunned to discover that he isn't just Liza's uncle, he's also her father. Glory decides then and there that she isn't going to leave Pearl River again, she'll get a job locally and get to know her daughter. Jesse is equally determined at the time to keep them apart.
This begins an emotional roller coaster of a story. I spent the last third of the book in almost constant tears, aching for Glory, who wants to get to know her daughter. I was also equally mad at and aching for Jesse. I loved watching Glory get to know Liza, being excruciatingly careful not to give away the truth, while desperately wanting to do so. The two of them bonded quickly, aided by Jesse's cousin Ilene. I loved the part where Glory was helping Liza with an angel costume. She is so happy just spending time with Liza, but is also determined not to give up hope of eventually telling her the truth. I got a bit frustrated with her when she started to cave in to the pressure to leave Liza alone.
Jesse is torn between allowing Glory to spend time with Liza and wanting her gone from Pearl River entirely. He has moments of being so understanding, like when he brought Glory the pictures of Liza from when she was small. He also has his moments of being a real butt-head, such as when he told Glory she needed to stay away for awhile. Jesse tells himself he is protecting Liza from being hurt by a woman he doesn't trust to stick around, but he is also protecting his own heart. Jesse was so inconsistent with his behavior toward Glory that I really wanted to grab him and shake him. And knowing his grandfather as well as he does, it bugged me that he had listened to and believed what the old man had told him ten years earlier. I loved what happened when he discovered the truth and how he admitted his idiocy. His big moment at the end was good, and I especially loved Glory's response.
Liza was a big part of the story of course, and I really liked that she played an active part. She's smart and sweet and her relationship with Jesse is already good, so she doesn't have any trouble accepting that he's her father too. I thoroughly enjoyed seeing her get to know Glory and figure out the truth there.