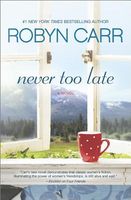 Read December 10, 2016
Three seconds is all it takes to turn a whole life around.
And if anybody knows about bouncing back after disaster, it's Clare Wilson. She's had it with being married to a serial cheater, and no way is he getting another chance. Even her own son thinks she should have kicked his dad to the curb ages ago. Now she's done it for good, and Clare is finally feeling the rush of unadulterated freedom.
But when a freak car crash lands Clare in the hospital, her life takes another detour. She might be banged up and bruised, but suddenly men are coming out of the woodwork. Even her ex is pining for her. It seems being an independent single woman is a powerful aphrodisiac. But amidst all the lust, the last thing Clare expects to find is love.
Good book with a central theme of relationships. The main character is Clare, middle sister, who is going through some major changes in her life. Her older sister Maggie and younger sister Sarah also have important roles in the story.
The story opens with Clare, who has left her husband of sixteen years for the fourth time because of his cheating, finding him in bed in their own home with yet another of his women. Furious with him and herself, she drives off in a state and promptly gets stopped for speeding. The nice young cop, Sam, lets her off with a warning, then watches in horror as Clare's car is t-boned by a car running a red light. He stays with her until she's taken off by the ambulance.
Her injuries are extremely serious, requiring surgery and months of physical therapy. Her family rallies around her, but Clare realizes it's time to take control of her life. She lets cheating Roger know that she's not coming back this time and starts to make plans for her future. During this time, she makes some new connections and revives some old ones.
One of her new connections is Sam, the cop who stopped her the night of the accident. He makes his interest in her plain, which is flattering to an ego that has been battered by her husband's infidelities. Sam has a very romantic side and is intent on showing her his feelings. While his attentions make her feel good, is it enough to build a relationship on? I loved the honest way that she looked at herself and her feelings, and that she had the courage to do what she felt was right.
Clare also reconnects with her high school friend Pete. He is the younger brother of the guy she had loved through high school and college. She and Pete have a history that kept them apart even after Mike's death. Clare makes the decision that it is time to face that history and see if their friendship can be repaired. Once they have faced and talked about what happened back then, they move quickly back into their old comfort with each other. But there is something different, and when Pete drops a bombshell about that past event, Clare finds herself looking at him in a whole new way. There were some really sweet scenes between them, and I especially loved the one the night of her birthday party. There were also some pretty steamy scenes.
Clare also has to deal with the effect of his father's actions on her son Jason. He seemed like a pretty typical teenager, sometimes smart and sometimes not. The author makes his reactions very believable. I especially liked seeing him confess to Clare what was bothering him the most, and I thought she dealt with it beautifully. When Jason does something really stupid, I loved seeing Clare and Roger come together as a team to deal with it.
Roger was thoroughly unlikable at the beginning with his cheating ways and attitude. It was interesting to see how he changed through the book. I loved that he took ownership of the failure of his marriage and that he was determined to improve his relationship with Jason. His persistence was admirable, and the scene where that first step was made was fantastic.
Clare's sisters also have their own issues going on in the book. Maggie is the oldest, married with two girls and a successful lawyer. But the magic seems to have gone out of her marriage, and she is a bit envious of Clare's romantic life. But whatever else is going on, she is always there to support Clare. There are a couple of really fun sister scenes, including one that takes place the night that Clare has a date with Sam.
Sarah is the youngest one. As a teen and young adult she had been a wild child, taking risks that her family tried to talk her out of. Her relationship with her mother was especially bad. When her mom died before she and Sarah could fix things, Sarah went into a depression and completely changed her life. Now she buries herself in her art and dresses very dowdy. Then an introduction to a gorgeous man has her wanting to make changes of her own, and she's off and running. I loved the development of the new relationship as the two seem perfectly suited to each other. An unexpected bump in the road has Sarah questioning his feelings, and it takes a near disaster for him to realize what they are.
What I really liked about this book is that it didn't end with everything all sunshine and roses. There are ongoing issues that will have to be dealt with but they all have the foundation to do it.