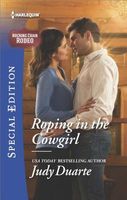 Read November 29, 2016
Series:
Rocking Chair Rodeo
(Book 1)
The path to true love lies deep in the heart of Texas!
As a child, the Rocking C was Blake Darnell's home away from home. Now it's a place for former rodeo cowboys to hang up their spurs…and the LA attorney is back in Texas to stop his uncle from making the biggest mistake of his life! Until he locks horns with Shannon Cramer, the sexy RN in charge of the place.
Blake thinks his uncle is falling for a gold-digger, but Shannon believes it's love even if the gorgeous, jaded lawyer doesn't. Agreeing to disagree gets complicated as their attraction heats up. But the born-and-bred cowgirl's digging in her boot heels -- she'll settle for nothing less than this city slicker's heart!
Blake spent many summers on his uncle's ranch in Texas, then grew up to become a busy lawyer in California. His uncle recently moved to a ranch for retired cowboys and took a job as the foreman. Blake was happy that his uncle has a new lease on life, but less so to discover that he's fallen for a woman and plans to marry her. Blake is certain that his uncle is being played and heads to Texas to put a stop to it. The first person he runs into is Shannon, the ranch's nurse. He doesn't make a good impression on her.
Shannon isn't sure what to think of Sam's nephew. Sure, he's good looking, but she's not too fond of his big city attitude. She also knows that he hasn't been to visit Sam, and that's just wrong in her book.
I didn't much care for Blake at the beginning. He hasn't taken the time to visit his uncle, but is sure that the man is falling prey to a gold-digger. When he arrives at the ranch, he looks at everything through a very negative eye. I felt he deserved it when his uncle wasn't exactly happy to see him. My attitude toward Blake softened a little when he admitted his mistake to Sam and apologized, though he doesn't tell Sam his reason for being there. However, he sticks his foot in it again when he is introduced to Joy and is less than truly nice to her.
I did like Shannon. She has a big heart and a terrific way of dealing with some of the grouchy old cowboys on the ranch. She is also protective of her aunt and Sam, and when she finds out what he thought she was furious.
There are definitely sparks between Blake and Shannon. But Blake has been burned once by a mercenary woman and is reluctant to trust again. Plus there's the fact that he is going back to California after he settles whatever is going on with Sam. Shannon feels the heat also, but she just came off a relationship with a man who turned out to be quite a snob, so she's planning to stay away from city men. I liked seeing them spend time together as Shannon shows him around the ranch and he gets to know the people there. Once he realizes that Joy isn't a gold-digger, he knows he should head back home, but he can't tear himself away. I loved seeing him remember his summers on his uncle's ranch and how happy he was then, and start to feel some of the same things now. Things with Shannon are heating up also.
There is a lot going on with Blake and his feelings, as he gets closer to Shannon. He's not used to talking about them, thanks to the way he grew up, which puts him at a disadvantage. He doesn't want to give up what they have when he goes home, so when he finds out about one of her dreams, he makes her an offer. Unfortunately for him, he left out the most important thing. Shannon is understandably hurt and angry, having believed there was something between them. After he gets past his own hurt, he has to decide what to do. I loved the conversation with his uncle that opened his eyes and showed him how to do it. The scene in the hospital was funny and sweet and a perfect ending for this book.
Looking forward to the next book.