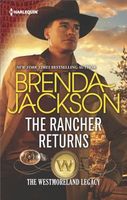 Read December 12, 2016
Series:
Westmoreland Legacy
(Book 1)
Returning from active duty to find his ranch being dug up by a beautiful stranger isn't the homecoming navy SEAL Gavin Blake expected. Layla Harris is convinced there's buried treasure on his land. But the only treasure this wealthy rancher wants to uncover is the professor's secret desires! When Layla unearths family secrets -- and mysterious threats -- he vows to do whatever it takes to protect her. Even as her revelations change everything…
This is the first book in a spin-off series about friends of the Westmorelands. Gavin is one of Bane Westmoreland's SEAL friends, whom we first met in BANE. When the book opens, the team has just finished a mission and is due for some leave. Gavin is feeling frisky and looking for some one-on-one time with a woman, until he gets a call from a neighboring ranch owner. It seems that Gavin's grandmother has given some college professor permission to conduct a dig on their ranch, looking for gold from a Jesse James robbery. He's certain that this professor is running some sort of con on his grandmother and he heads for home, determined to stop it.
Layla is a young and very beautiful college professor who has been researching this particular subject for a long time. She has overcome stiff opposition from other faculty members in order to pursue this dig. She has gotten this far by concentrating on her goals and not allowing herself to be distracted. We first see her at the ranch house, talking with Gavin's grandmother about the project, and hearing that Ms. Melody suspects that her grandson won't be as enthusiastic about the project as she is.
The first encounter between Gavin and Layla is great. He is stunned by his immediate attraction to the woman with his grandmother and it takes several minutes for him to realize that she is the professor in question. He's still determined to stop her dig, but decides he wants to sleep with her first. Layla is just as attracted, but determined not to be distracted from her purpose. She is certain that she can resist his advances.
I have to say that I didn't care for Gavin's attitude at the beginning. He is so used to women falling all over him that he ignores Layla's resistance to his advances. Yes, she responds when he kisses her, but no should mean no. It was rather fun to see this guy who has resisted all entanglements so far, get turned completely inside out by a woman. I loved seeing him have to actually work to get her.
I liked Layla's independence and determination. She isn't going to let anything keep her from her goal, not matter how sexy he is. I liked seeing her stick to her goal and wait until she was ready to go any further with him. Of course, once she did, they were incendiary together.
The development of their relationship seemed to be built a lot on their physical needs for each other, but they slowly began to get to know each other outside the bedroom. I liked seeing Gavin share his feelings about his mother's desertion of him and his father, as it gave insight into his attitude toward women and commitment. Layla shared memories of her grandfather, who fostered her interest in Jesse James, and her problems with her parents who hadn't supported her career choice. Their feelings for each other grew and deepened, but neither spoke of those feelings.
Gavin was still skeptical about her claim, but figured letting her continue the dig would keep her around for a couple weeks. Things got a little weird though, when some strange things took place. He may not really believe in the treasure, but he wasn't going to let someone else mess things up for her. When a fire destroyed her equipment, and a vindictive student caused the university to cancel the dig, Gavin stepped in. I loved seeing his protective streak come out, and how his team came out to help find out who wanted the dig stopped and why. Who it was, and his reasons, were an interesting twist in the story.
When it was all over, both Gavin and Layla had to decide what they wanted to do about their relationship. Gavin makes assumptions about her, and it isn't until his grandmother gets involved that he actually talks to her about his feelings. Layla had made assumptions of her own based on his actions. I really liked seeing how a little communication made a world of difference. The epilogue was a good ending.