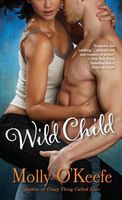 Read December 1, 2016
Series:
Boys of Bishop
(Book 1)
Monica Appleby is a woman with a reputation. Once she was America's teenage "Wild Child," with her own reality TV show. Now she's a successful author coming home to Bishop, Arkansas, to pen the juicy follow-up to her tell-all autobiography. Problem is, the hottest man in town wants her gone. Mayor Jackson Davies is trying to convince a cookie giant to move its headquarters to his crumbling community, and Monica's presence is just too . . . unwholesome for business. But the desire in his eyes sends a very different message: Stay, at least for a while.
Jackson needs this cookie deal to go through. His town is dying and this may be its last shot. Monica is a distraction proving too sweet, too inviting -- and completely beyond his control. With every kiss he can taste her loneliness, her regrets, and her longing. Soon their uncontrollable attraction is causing all kinds of drama. But when two lost hearts take a surprise detour onto the bumpy road of unexpected love, it can only lead someplace wonderful.
Very good book. Jackson is the mayor of a dying town. He has been trying to find a way to bring industry of some kind back to the town, and came across a contest where the winner would have a cookie factory located there. Ever since entering and finding out they made the semifinals, he has devoted everything he is to giving the town the best possible chance.
Monica lived in the town briefly as a child, leaving with her mother when she was six. Her father had been abusive to her mom and during one especially brutal night, her mom shot and killed her father. Now Monica is back in town, looking to interview people who were there that night and write a book about the event.
I liked both Jackson and Monica. They felt like real people with real problems. Each of them is dealing with a past that has had a huge effect on their present. Monica and her mother had been the stars of a reality show when called "Wild Child" when she was a teenager, and she lived up (or down) to the image. She eventually broke away from the show and her mother, wanting to escape what she'd become. Eventually she wrote a book about that time, making her more famous, but not happy. She has come back to Bishop to write her story about her mother, not because she wants to, but because she needs the money. She spent everything she had trying to help her best friend who was dying of cancer, and now has a lot of bills to pay. She's not going to let anything stop her, not even Jackson's disapproval.
Jackson is young to be the mayor of the town, but someone had to do it. His life hasn't been what he planned. When he had just started law school, his parents were killed in an accident, leaving him as guardian of his twelve year old sister. He left school and came home to raise her, but has always struggled to connect with her. Now she's about to graduate and head to college, which will free him. He just wants to get the town set on a better way of life and then he can leave without guilt. But he's afraid that Monica's arrival and reputation could threaten the image of the town that he has worked so hard to portray.
The first meeting between Jackson and Monica was both good and bad. There was an instant chemistry that flared up between them that was impossible to deny. The flirting they did was fun to see but it crashed and burned when he tried to get her to lay off her plans until after the contest. But however they try, they can't stay away from each other and the chemistry between them is incendiary. The relationship that grows between them is something of a love/hate one, as both are good at poking the sore spots in the other's life. Through it all they develop amazing insight into each other's lives and a deep desire to help.
Jackson sometimes comes off as a self-righteous prig, but underneath is a desire to fix whatever it is that is wrong. This is why he is so invested in winning the contest for the town. It also comes out during his first intimate encounter with Monica, and I loved his sensitivity and creativity in working through what happened. Jackson has closed himself off emotionally and this keeps him from letting anyone really get close to him, including Monica and even his sister. I ached to see his interactions with Gwen, because he couldn't seem to figure out what he needed to do even as he knew he was screwing up.
Monica is trying desperately to live down her reputation as she tries to build a normal life. I really enjoyed seeing her try to help out with the contest by doing a writing workshop at the summer art camp. Her interaction with the three teens were pretty blunt, but it seemed to really work. Things get more complicated when her estranged mother shows up in Bishop, wanting to mend fences. I hurt for Simone almost as much as I did for Monica.
There's a depth of emotion that comes out as Monica realizes that she has fallen in love with Jackson, but has no idea of how he feels. She's not confident that he returns her feelings, and as some things come out about the contest, she ends up feeling used and betrayed. A confrontation with Jackson has them exchanging harsh words with each other which leave both of them reeling.
There was also a secondary story with Gwen, the art school director, and encounter she had with a visitor to the town. She steps outside her comfort zone, but things don't go quite the way she envisions. Her actions are not usual for her and are brought on by her own insecurities. She soon realizes that she has made a mistake, but fixing it proves to be difficult. Strangely enough, it is her unexpected friendship with Monica that helps her do it.
Everything comes to a head the day of the finals for the contest. There was so much hope from everyone that they would win. I loved seeing Jackson's support of his town and the people in it, as everything around him goes crazy. In the end, help comes from an unexpected source and everyone is left slightly stunned. It also helps Jackson realize what is most important in his life. I loved the ending as he and Monica are finally able to overcome their pasts and look to a future together.