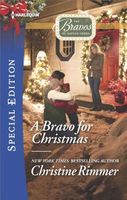 Read December 4, 2016
Series:
Bravos of Justice Creek
(Book 6)
WHEN DARIUS BRAVO WANTS SOMETHING…
…he usually gets it. And the powerhouse CEO has wanted Ava Malloy since he was a Justice Creek High senior. Darius is already adored by one Malloy: Ava's spirited daughter. Helping Sylvie and her local Blueberry troop build dollhouses for needy kids is a worthy cause that's bringing him closer to the widowed single mom. Imagine his surprise when the usually unapproachable Ava starts flirting and making her romantic intentions crystal clear!
With one condition.
A holiday fling with the man Ava has always found irresistibly attractive is a thrilling way to ring in the New Year. She can't promise Darius the future -- one devastating heartbreak in a lifetime is enough. But Ava underestimates his staying power. And what about her own secret heart's desire? A Bravo under the mistletoe and in her arms forever!
Very good holiday story. Ava and Darius have known each other since high school. Back then, Darius was the big man on campus, known for charming all the girls. He used to flirt with Ava, and ask her to go out. Thanks to things that happened when she was younger, Ava has made her plans for the future and she refuses to let Darius distract her and turns him down flat. After school they go their separate ways, both leaving Justice Creek, until life calls them back home. Darius is CEO of his father's metalworking business and Ava is a successful real estate agent and widowed mother of a little girl.
Ava is a loving mother to Sylvie, who is the center of her life. She's quite content with her life most of the time, but as the holidays approach, admits that she can get a bit lonely. She makes the decision to pursue a holiday fling with the man who still attracts her after all these years.
Darius is still known as quite a flirt who hasn't settled down with anyone after all these years. He's also highly involved in his community, including with the local Blueberry troop, one of who is Ava's daughter Sylvie (I loved the opening scene where they had been "decorating" him). He's still drawn to Ava, and never passes up an opportunity to flirt with her.
Darius is stunned at Ava's request for a holiday affair. She has rules for it, such as nobody can know that they're together, emotional entanglement is forbidden, and it ends with the new year. He agrees to her rules, but has no intention of keeping them.
I loved the development of their relationship. Though Ava is all for jumping right into the fling, Darius is determined to slow things down and force them to get to know each other before they get intimate. He has a little bit of an "in" because thanks to his involvement with Sylvie's troop, he can find multiple reasons for all three of them to get together. Ava is wary because, thanks to events in her childhood, she has control and trust issues. She worries that if she lets him get too close Sylvie will be hurt. She also doesn't want to risk her heart after the pain of losing her husband. I loved Darius' patience and sensitivity as he slowly began to chip away at Ava's walls. I especially loved the scene where she opened up about her childhood. His reactions were just what she needed. Ava could feel herself falling for him and fought it all the way. I admit to sometimes being irritated with her attitude about taking Sylvie to visit him and some of her other rules. Things came to a head when Darius pushed a little too hard and Ava panicked. I loved the part that little Sylvie had in bringing them back together.
It was interesting to see the differences between Ava's and Darius' families. You could see that the love was there in Ava's, but there was a lot of tension too. Her mother's intense matchmaking efforts is one of the things that drove Ava's desire to keep her relationship with Darius a secret. Her brothers were protective, but I didn't get the feeling they were particularly supportive of her. Tom especially bugged me at the beginning, but redeemed himself at the end. On the other hand, the Bravo family was great. Though they'd had their problems in the past, they are now there for each other. When tragedy affects their sister Jody, I loved seeing how they gathered around her, helping without smothering.

*copy received in exchange for honest review