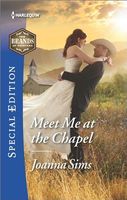 Read December 11, 2016
Series:
Brands of Montana
(Book 7)
One Magical Montana Summer
Circumstances took Casey Brand's vacation plans with her sister and new niece on a slight detour. Now she's staying in Brock McCallister's garage apartment in exchange for her help with his daughter with autism. But she still has horses to ride, sunsets to savor and a handsome man to admire…who is proving more friendly than expected.
Getting divorced and dealing with custody issues has pretty much beaten Brock down. Yet how can he stay in a foul mood with Casey's optimistic outlook right next door? Because of her, his daughter is communicating better, his home shining brighter. She's even brought life back to the ranch's old chapel. But is she ready to perform the same dramatic transformation with his tattered heart?
Good book. This story is about Casey Brand, sister of Taylor from High Country Baby, and Brock, Clint's stepbrother from the same book. Casey is a special education teacher who has come to Montana on her summer break to visit with her sister and new niece while Clint is on the road. Her truck breaks down near Brock's ranch just as a big storm is approaching. He rescues her, and they spend the storm in the basement along with Brock's autistic daughter.
Brock is pretty stressed. He's foreman of one ranch while owner of his own. He's been separated from his wife for awhile now and is going through a rough custody battle with her. He just wants what is best for Hannah and is willing to do what he has to in order to get it.
There's a quick connection between Casey and Brock, and also between Casey and Hannah. Brock is impressed with how easily Casey handles Hannah. When Clint is injured and ends up coming home for the summer, Brock offers Casey the apartment over his barn if she will work with Hannah over the summer. She snaps it up, not wanting to intrude on the newlyweds.
Over the next month, the three of them spend a lot of time together. I loved seeing the changes that Casey brought to Hannah's life, and how much it meant to Brock. Casey and he met regularly at the little chapel on the Brand ranch to have lunch together. I loved how they got to know each other, sometimes talking, sometimes just being quiet together.
But technically Brock is still married and Casey is cautious about risking her heart. It was interesting to see Brock's reaction when the divorce became final. I enjoyed seeing Casey see him through it, then give him the kick in the pants he needed to get on with his life. Brock knew exactly what he wanted and had no trouble going after her. Things are looking good for them when Casey gets hit by a health crisis that really shakes her up. I loved Brock's support of her and how he was there with her as much as he could be.
Casey still has some trouble making a final commitment to Brock. I liked how he went to Taylor for advice and then made his plans. His big moment at the end was sweet and romantic and I loved it.
There was a lot made over the last two books about the rift between Brock and Clint. We get an idea of why from something Brock says to Casey. I liked that they were making steps to repair the relationship, but I would have liked a little more detail about how it was going.