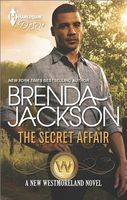 Read December 12, 2016
Series:
Westmorelands
(Book 29)
It has been a year since Jillian Novak ended their affair -- a year that left Dr. Aidan Westmoreland determined to win back his lover. He knows they shouldn't have to keep their relationship a secret and he'll follow her around the world to prove it. Fourteen days on a cruise ship -- just Aidan, Jillian and the deep blue sea…and a passion that won't be denied.
In previous Westmoreland books there were hints that there was something going on between Aidan Westmoreland and Jillian Novak. Jillian is a younger sister to Pamela, who is married to Dillon Westmoreland. Jillian had had a crush on Aidan, who is five years older, since she was seventeen. At her twenty-first birthday party they discovered that there was something deeper going on.
Aidan is a typical Westmorland man. He is good looking, successful, charming, and has quite a reputation with the ladies. At this time he is finished with medical school and going on to his residency. He has no intention of getting married anytime soon. However, he can't deny the strength of the attraction he feels for Jillian, and goes after her.
Jillian is preparing to enter medical school. She's had a crush on Aidan for years, and having him being a doctor is icing on the cake. She does her best to keep her fascination with him under control, but when a kiss between them burns hot and out of control she's not sure what to do. She wants him, but she doesn't need the distraction. She also believes that if anyone were to suspect something was going on, it would create problems within the family. So she agrees to a relationship with Aidan, on condition that they keep it a secret.
Aidan isn't particularly happy to do that, but he goes along with her. Over the next three years they get together when they can. Aidan spent a week with Jillian, helping her study for her MCAT, where they got to know each other better along the way. But carrying on a relationship over long distances isn't easy, especially when each of them has their own professional stresses to go along with it. There is also the strain of trying to hide their feelings when around the family.
After three years, the stress has reached the breaking point. Aidan has begun to resent her insistence on secrecy. He cares for her and wants their relationship out in the open. He also frequently feels that he's the one making all the sacrifices. He's angry when she refuses to come spend his birthday with him. Jillian is feeling the stress also. She changes her mind about his birthday and plans to surprise him. Unfortunately, she's the one that gets the surprise when she finds him in the middle of a big party, attending by scantily clad women. When she sees one of them all over Aidan, she leaves without seeing him, and later breaks things off with him.
I was a bit angry with her at this point. She ended the relationship without talking to him about what she had seen. She'd always been a bit insecure about their relationship, thanks to his reputation. But they had been together for three years and she should have trusted him by now. I was also a bit disappointed in Aidan's actions, feeling that he made some bad decisions the night of his birthday.
This was all followed by a year of them being apart and miserable about it. I loved how Aidan decided it was time to resolve the issues between them. I really enjoyed seeing the help he got from friends and family, who hadn't been as clueless as he and Jillian had thought. It was fun to see her shock when he showed up on the cruise ship where she was celebrating her med school graduation. Their attraction hadn't decreased over the year, it had only burned hotter. I loved seeing them straighten everything out, with both admitting to some responsibility in their breakup. I loved Aidan's big moment at the end, which was really romantic. The epilogue with Dillon and Pamela was a fun wrapup.