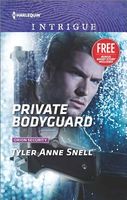 Series:
Orion Security
(Book 1)
As a bodyguard, it was his duty to protect her -- not fall for her all over again…
Orion Security Group's mission is to protect those in serious danger. So when Oliver Quinn's latest assignment unexpectedly brings him back into Darling Smith's life, he knows it's going to be his most challenging case yet. And from the moment he comes face-to-face with the beauty from his past, Oliver can't deny their history is going to make for some tension-filled days -- and frustrating nights. But keeping her safe, even though she denies she needs his help, has to come before exploring their lingering feelings. She may not have asked for his protection, but with the killer on her trail, she can't afford not to have it…
Good start to a new series. Darling's day starts out rather rough, when she gets arrested for trespassing on the local millionaire's property. The deputy, who she used to date, is having a little too much fun at her expense. But the day goes from bad to worse when the millionaire's bodyguard comes to question her, and it turns out to be the same man who broke her heart eight years earlier.
The last place Oliver expected to see Darling was in a small town in Maine, and on the opposite side of a case from him. The suspected mistress of the local millionaire has been murdered and Nigel is the top suspect. Darling has been investigating Nigel for infidelity, but Oliver is certain he's innocent of both charges.
When Darling begins getting threatening notes, Oliver can't just step back and ignore it. It may have been eight years, but there's still something there between them. The problem is that Darling doesn't want protecting. She's done fine without him. But when one attack puts Darling in danger of dying of exposure, even she has to admit she may need his help.
Even though it has been so long, the heat is still there between Oliver and Darling. Both try to resist, since Darling's place is in Maine, and Oliver works out of California. When Oliver puts her safety ahead of the job he was hired to do, he finds himself with some decisions to make. I loved seeing how he managed to work the job and the girl into a promising future.
The suspense of the story was really good. Who killed the woman? Who was she really? Someone seems to be helping Darling with her investigation one minute, then turning around and threatening her the next. I had a pretty good idea of who was responsible for the murder early on, but I couldn't figure out why. It wasn't until an unexpected twist at the end that the motive was revealed and it was quite a stunner.