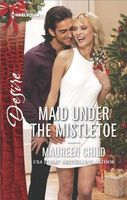 Read December 9, 2016
An upstairs-downstairs affair for Christmas…
Single mom Joy Curran needs this temporary holiday housekeeping job working for a reclusive billionaire. But her sexy, aloof boss pulls at Joy's heartstrings -- and her long-denied desires -- in unexpected ways…
Sam Henry never got over the loss of his wife and son, and he's shut himself off from happiness, love…and the holidays. But Joy and her sweet daughter bring laughter into his life. And living with his new maid ignites a passion he can't ignore. After one glorious night in Joy's arms, will this beauty be the Christmas miracle that changes the beast forever?
Very good book. Sam is an artist who lost his wife and son in an accident six years earlier. He blames himself and has hidden himself away, no longer able to find the passion he used to have for his art. Instead, he expresses his creativity in the beautiful furniture he makes. One thing he won't do is let anyone close to him again.
As the book opens, Sam is complaining to his housekeeper of five years as she prepares to leave on her yearly cruise. She always has a friend that will come fill in for her, and this year she has asked her friend Joy. Kaye fusses at him not to make things difficult for Joy and she'll take good care of him. He gets quite a shock the next morning when he discovers that Joy is not an older woman like Kaye, but a young one with - horror of horrors - a child.
I loved their first encounter. Sam is determined to send them on their way and Joy is equally determined that they will stay. It was fun to see Joy shoot down every objection he had, not giving him a chance to really put his foot down. Joy's daughter Holly also got into the mix, talking a mile a minute about fairies, whether there are any in his woods, Christmas, the puppy she wants, until he doesn't know which way is up. He basically runs away to his workshop, hiding out there until he figures they've gone to bed. He's surprised to find Joy waiting up for him in the kitchen, with one of the best meals he's ever had. He agrees that they can stay, but makes his requirements known. Joy agrees, but has no intention of going along.
Joy can see that Sam has closed himself off and can't stand to see him facing such a lonely future. She is determined to bring him back to the land of the living. Sometimes it seems that her method is to talk to him until he agrees in self-defense. It was interesting to see their encounters go from mostly her talking, to slowly getting some participation from him. But it turns out that her secret weapon is Holly. For all of his gruff crabbiness, there is no way that Sam can be mean to little Holly and he quickly finds her burrowing into his heart. It was so sweet to see him stop his work and build fairy houses with her and listen to her stories about the fairies who would live in them. Seeing them together also showed Joy that Sam had a lot of love to give, if he would just allow himself to feel it.
I ached so much for Sam. His misery over the loss of his family was made worse by the way he blamed himself. Not only had he lost them, but the guilt made it impossible for him to paint again. I liked the way he lost himself in his furniture making, giving him an outlet for the creativity that was still there. I had a lot of fun watching him try to resist steamroller Joy and losing miserably. I especially loved the scene in town when she talked him into taking her to dinner and he had to put up with meeting so many people.
Both Sam and Joy also had to deal with the sparks that burned brighter between them with each day. The way he makes her feel is just one more thing to add to the feelings that are growing within her. Joy hopes that Sam feels the same way, and occasionally glimpses something in his eyes that feeds the hope. But when a crisis happens involving Holly, Joy can feel him start to pull away, back into his old protective habits. I ached for them both when she finally tells him how she feels, and Sam refuses to take a chance, causing Joy and Holly to return to their home. But in the spirit of Christmas, it's young Holly who brings Sam and Joy back together. I loved his big moment on Christmas Day, when he makes a lot of wishes come true.