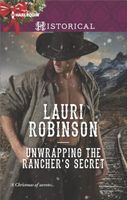 A ghost of Christmas past…
Heiress Sara Johnson is shocked when the stepbrother she believed was dead returns to Colorado to claim his inheritance! It might be the season of goodwill, but Crofton Parks seems determined to destroy his late father's empire.
Sparks fly as Crofton and Sara are forced to work together, and soon she begins to uncover the secrets behind his disappearance and need for revenge. But a far more unsettling discovery is the desire he awakens in Sara. This roguish rancher might just claim her heart by Christmas!
Good book. Sara has just buried her mother and stepfather who were killed in a carriage accident, leaving her heir to his lumber business. She's a bit nervous about stepping into the role, but her father's assistant has been assiduous in offering his help. She returns to her home to find a stranger sitting in her stepfather's office.
Crofton was separated from his father when he was a child by a mother who refused to follow him into the "wilderness". Winston promised to send for Crofton as soon as he was able to. Before he could, he received word that Crofton had died in a fire, and at the same time Crofton was told that Winston was dead. When Crofton discovered the truth he was determined to find out why his father had deserted him. But he also didn't want to show up with nothing to his name, so he spent time developing a cattle ranch that would use the railroad to get the cattle to market. When the proposed railroad fell through, Crofton blamed his father.
When Crofton arrived, he intended to investigate the death of his best friend who had been looking into the failed railroad project. Instead, he encountered Sara, who was not the gold-digger he expected. After a rough beginning, she insists that he is entitled to half the business. As they work together to keep the mill productive, an attraction begins to build. Crofton also becomes very protective as shots are fired, unexplained fires happen, and other accidents. It becomes obvious that someone isn't happy with Crofton's involvement.
I loved seeing the sparks fly between Crofton and Sara. At first there is mutual distrust, but that doesn't last too long, as they are forced to work together. Sara spends a fair amount of time trying to figure him out, wondering why he is so angry at his father. I loved the way she was determined to show him just how much Winston had loved and mourned him. Crofton hadn't had any intention of getting involved with the mill, but he was determined to help Sara learn how to run it. I loved the way that he was so impressed by her intelligence and the inner strength that she was finding. It wasn't long before they were falling hard for each other. There are a couple scenes where his feelings are pretty obvious, though she doesn't see them. By the time she does, he's pulling away for reasons of his own. I loved the ending, with Sara taking matters into her own hands.
The mystery of the problems with the mill was really well done. The danger built in a steady manner that kept the story moving. As it built to a climax, Crofton became more worried for Sara's safety. The final confrontation brought danger to Sara, enlightenment to Crofton as he cleverly pieced together the truth, and a twist regarding one of the players. The person behind it all came as a real surprise.