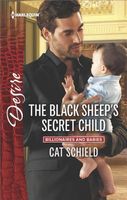 Series:
Billionaires and Babies
(Book 74)
Las Vegas Nights: Club T's
(Book 1)
A second chance with her son's secret father!
Widow Savannah Caldwell faces the challenge of her life: begging Trent Caldwell -- her former fling and late husband's brother -- to save the family's ailing music business. That she's still attracted to Trent makes things hard; that Trent is her son's secret father makes things impossible!
Trent is fiercely proud of making his own fortune, despite his controlling father. And he's always believed his brother got the girl who should have been Trent's. Now he'll have the family business, and his brother's widow in the bargain. But will their romantic reunion be waylaid by Savannah's shocking baby secret?
Good reunion/secret baby story. Savannah had spent her teen years as the niece of the Caldwell's housekeeper. She knew Trent and his brother Rafe pretty well and was good friends with their sister Melody, but had always had a crush on Trent. When she grew up she went off to New York and became a model, then an actress. At that point, Trent saw her as a woman and they began a fling. But he wouldn't give her the family and children she wanted, so she broke things off with him. Rafe offered her the life she wanted, and even though she didn't love him, she listened to him. A quick weekend fling with Trent showed her there was no hope, so she said yes to Rafe, not knowing she was pregnant with Trent's baby. By the time she did, it was too late. Since he'd made his disinterest in family clear, and Rafe wanted the baby, she kept quiet.
Now Rafe has died and left his shares of the family music business to Dylan.The business is in trouble and her father-in-law is creating more problems. Savannah comes to Las Vegas to ask Trent's help to save the business.
Trent grew up as the second son, unappreciated by his controlling father. He reacted by being the rebel, always in trouble. Not allowed to be part of the family business, Trent went out and built his own. He thought of Savannah as his until she went and married his brother. But he never forgot her, and it was a bit satisfying to him to have her asking for his help now.
Neither expected the attraction to be as intense now as it was then. From the beginning they couldn't keep their hands off each other. Trent was still resistant to the idea of helping, but he couldn't quite leave Savannah to deal on her own. I liked the protectiveness that had him returning to LA with her, putting him on the spot to help her when her father-in-law tried to use baby Dylan as leverage to get what he wanted. Trent scoops them up and takes them both back to his home in Las Vegas to protect them, while he and Savannah decide what to do about the business.
The rekindling of their relationship got its start in a purely physical form. Savannah knows that Trent's attitude toward marriage and family hasn't changed, and that she's bound to get hurt, but she can't quite stop hoping. She also knows that she should tell him the truth about Dylan, but she's afraid of what his reaction would be. Trent's attitude toward marriage and family is because of what he witnessed and experienced with his own, and he has no desire to experience it himself. He was pretty adamant, and I loved seeing the effect Dylan had on his attitude about kids. I loved how they took to each other right away, and seeing Trent cuddle with and read to Dylan softened my heart and Savannah's toward him.
There was a bit of a mystery going on with the business, a question of why it was doing so poorly. I loved the scene in the office, as Savannah and Trent confront Siggy and the manager to get access to the financial files. I loved the brief appearance of Logan from
At Odds with the Heiress
, as Trent gets assistance from him in solving the mystery. I also liked how Savannah has built up some backbone over the last few years and uses it when Siggy pulls a dirty trick on her.
That threat, however, motivates Savannah to finally come clean with Trent, creating another set of problems. Trent, of course, is stunned and furious, and must now deal with a new reality. I loved the eye opening conversation he had with his mother, and the difference it made to his outlook. Savannah realizes that she had made some bad decisions, but her reasons are understandable. As much as she still loves Trent, she isn't going to settle for less. I really enjoyed the ending, with Trent's big moment, including the surprise about the business.
There was also a bit included about Trent's sister Melody and her boyfriend Kyle, who is also one of Trent's partners in the club. There are some problems in their relationship that I suspect are going to be the subject of the next book. I liked what I've seen of both Melody and Kyle, so it will be interesting to see what happens there.