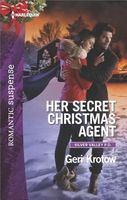 Series:
Silver Valley PD
(Book 3)
Can a former Marine and an undercover cop crack a deadly Christmas case?
When a cult threatens the high school where he teaches, ex-Marine Mitch Everlock is on the case. His priority: protecting his students. His world is rocked when one of his pupils, Nika Pasczenko, reveals she's an undercover police officer! But can the agent with secrets of his own trust his partner-in-crime?
The last thing Nika expected on this investigation was meeting a sexy veteran who makes her heart light up like a Christmas tree. But with both their lives at risk, and the students in danger, neither of them can afford the slightest distraction. Especially one as big as falling in love just as a killer closes in…
Very good book. Continuing the story from the previous two books (though it can be read as a stand alone), the True Believers cult has gotten a foothold in Silver Valley. Someone is making threats against former Marine and chemistry teacher Mitch Everlock. He is also the academic adviser for the school's Rainbow group, and is worried that his students are in danger. After taking his concerns to the police, they send an undercover cop to investigate. Nika is assigned to the case and tasked with posing as a high schooler to discover who is making the threats.
Sparks flew between Nika and Mitch from the very beginning. There was immediate attraction, but there was also some antagonism. Nika is a trained police officer and doesn't appreciate a civilian butting in on her case. Mitch is more than a chemistry teacher - he's also a former Special Forces Marine, as well as being a member of a shadow law enforcement agency. His protectiveness goes bone deep and it is difficult for him to put aside.
I loved seeing the relationship develop between them. The attraction between them roared to the surface several times, but both would stop it before it went too far. There were several obstacles to overcome. First was the case they are working on. With Nika pretending to be a high school student, starting a relationship would be a bad idea and they both knew it. Her cover could be blown if they were seen together, plus it could become even more of a distraction than it already was. Nika also needed to get past her broken relationship, caused by a man who couldn't handle her job. She fears that Mitch would be the same. Mitch has to realize that he can't be responsible for the whole world and also admit to himself that he's in love with her. I really enjoyed seeing them get closer and learn to trust one another. I really liked his big moment at the end.
The suspense of the story was really good. Nika's investigation started easy, with trying to figure out who was leaving the threatening messages. We get a glimpse of the perp and discover his motivation. A rock thrown through the classroom window almost injures them, then one through her windshield nearly kills Nika. I loved seeing Nika make friends with Rachel, and how Rachel became a link to the cult for the investigation. There was a really tense scene with the two girls and the cult members that really had me on the edge of my seat. The final confrontation had a surprise twist that I didn't see coming. I'm looking forward to the next book.