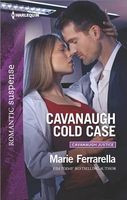 Series:
Cavanaugh Justice
(Book 32)
Working in a morgue, medical examiner Kristin Alberghetti hardly expects a living, breathing man to walk through the door and make her heart pound. So she's floored when gorgeous playboy Malloy Cavanaugh is her partner on a new case. The cold-case detective has a rep for charming the clothes off every woman…except her. And it's tough to keep her eyes on the prize as the two investigate recently excavated, long-buried bodies at a cacti nursery.
Malloy has no plans to change his bachelor lifestyle, until reclusive Kristin catches his eye. Something about this case -- and his beautiful colleague -- touches his heart. But can a flowering romance survive the rigors of a brutal case and its infinite dangers?
Another fantastic Cavanaugh story, with the mystery heavy on the puzzle side rather than action packed. Kristin works as a medical examiner for the Aurora Police Department, something that her mother just doesn't understand. But Kristin learned early on that she prefers bringing closure to families of crime victims to the emotional trauma of dealing with life and death of patients. She is dealing with yet another plea from her mother for grandchildren when she gets a call that multiple bodies have been found and has to go to work - much to her relief.
Malloy is a detective in the cold case division and is called in as the investigator when twelve decades old skeletons are uncovered at a nearby cactus nursery. He arrives to find Kristin intent on processing the scene. Being the red-blooded male that he is, he is immediately drawn to her, and employs some of his well-known charm and flirtatiousness to get her attention. He's surprised and intrigued when she doesn't bite.
I loved these two right from the beginning. Malloy has never had to work so hard to get a woman's attention, and it makes him even more determined to break through her barriers. Kristin doesn't understand why he keeps bugging her. No matter how hard she tries to get rid of him, he keeps coming back for more. Pretty soon she's drawn into a more active role in the case. She and Malloy actually make a good team, as she brings a certain amount of warmth and compassion to the process.
I really enjoyed the interactions between Kristin and Malloy. He is determined to get to know her better and she is just as determined to avoid his advances. For all his flirtatiousness, Malloy is very much a gentleman, and I loved seeing him change her tire, make sure she gets home safely, and just treat her well. Kristin is used to being independent, cautious, and is constantly suspicious of his motives. It was really fun to see the determined bachelor as he realized that Kristin was everything he hadn't been looking for. This increased his desire to break through her barriers and get her to see what could be. I had fun seeing Kristin's confusion as Malloy refused to be driven away. The more time they spent together, the more she got used to his ways and actually looking forward to their time together. I loved seeing the heat between them continue to build until it exploded between them. That scene was hot and fun, as it didn't begin the way I expected. Kristin believes that Malloy is indulging in a fling, and is determined to enjoy it while she can, while he is surprised to realize that he wants more from her than he has from anyone else. I loved his big moment at the end.
The mystery of the story was really good. It was definitely of the putting the pieces of a puzzle variety, rather than the action packed danger of some of the others. Fortunately, both Kristin and Malloy are people who love puzzles. Assembling bits of information to make the big picture is why each of them is so good at their job. As they started off with twelve bodies, eleven female and one male, and no clues, it wasn't going to be easy. I loved seeing how one small piece of information helped identify one victim, leading to the possible identification of another. There were also a couple times when Kristin came up with ideas that Malloy hadn't thought of. As they found more pieces of the puzzle, I started to get an idea of who the culprit was. However, there was a very interesting twist to the story that I didn't see coming at all.
There were a few appearances by other Cavanaughs, of course. Malloy is very good at using his charming ways on his female relations, too, as he requests some of the specialized help they can give. There was also mention of an upcoming Andrew get together that Kristin and her mother were specifically invited to, but we didn't actually see it happen. I would have liked to see Kristin's mom's reaction.