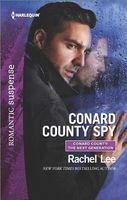 Series:
Conard County: The Next Generation
(Book 29)
Hunted by an anonymous killer, rogue CIA agent Trace Archer seeks out a trusted buddy in Wyoming. With danger stalking him, the last thing he expects is innocent civilian Julie Ardlow to offer him help. But when the beautiful kindergarten teacher with a brave heart gives him a cover he can't refuse -- pretending to be an old flame -- sparks begin to fly!
Brave heart? Try crazy. Because though Julie will do anything to save the sexy spy's life, he's eventually going to leave, right? But she can't resist emotionally withdrawn Trace and his soulful eyes. And the deeper they dig into his past to suss out a murderer, the closer danger creeps toward them both…
Very good book that kept me hooked from beginning to end. It's a little short on action until the very end, but full of building tension as Trace and Julie try to find out who is out to kill him. It starts out as Trace is moving around the country, trying to stay ahead of a possible threat, while at the same time recovering from a career ending injury. He stops in Conard City to see his friend Ryker, then realizes that he may have brought danger to his friend's new family. Though prepared to move on, Ryker and the sheriff convince Trace to stay put and set a trap for his pursuer. They enlist the help of Julie, who will pass him off as an old flame.
There are sparks between Trace and Julie from the moment they met. Julie is a kindergarten teacher with a pretty sunny outlook on life and an adventurous personality. She is also protective of her friends, and offers herself as cover in order to protect her friends Marisa and Ryker. She doesn't expect the intense attraction she feels to Trace. Trace has spent years keeping his emotions under tight control, but she constantly finds ways to surprise him. Keeping her safe is his first priority, and he's reluctant to do anything that could distract from that. A raging blizzard protects them from outside danger, while their proximity draws them closer together.
I really enjoyed Julie's attempts to break through Trace's walls. She's drawn to him, but accepts that he's not going to stick around. That doesn't mean that she isn't going to go after what she wants from him. Her attempts to get him to talk didn't always go well, and I liked the realism of her frustration with him. She can also admit when she lets the stress get to her and she feels like she's being unreasonable. I felt for Trace as he was caught in a bad situation. He feels guilty for putting Julie in danger, but at the same time being with her is fantastic. He struggles to open up with her. I loved seeing how he would expect one reaction from her and be stunned at getting something completely different. The strength of the feelings that he has for her frequently has him backing off as he tries to figure out what to do about them. I liked the ending as Trace has his chance to really share his feelings.
The suspense of the story was good. Trace went from the possibility of trouble to knowing it for sure. He went to Ryker for help, but then had to adjust his plans. I liked seeing him accept help from Ryker and Gage. Trace is recovering from a horrible injury and still on pain medication for it, medication that he complains about because of the way it makes him feel. Trapped by the blizzard, but also protected by it, Trace, Julie and the others work to figure out who is behind the pursuit. Each bit of information they uncover adds to the big picture until Trace finally figures it out. What he discovers along the way points to a betrayal of the worst kind. When the blizzard ends, the intensity picks up as they prepare for the bad guy's arrival. The final confrontation was intense, with both Trace and Julie in danger. I liked the way that Julie kept a calm head and was able to help herself. Trace's fear for Julie's safety kept him focused on what he needed to do. The result was satisfying along with the follow up actions taken by Trace and Ryker.