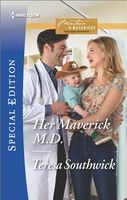 Series:
Montana Mavericks: Baby Bonanza
(Book 2)
WARNING: THIS DOC MAY CAUSE SWOONING
Rust Creek Ramblings
I'm sure you've heard there is a new doctor in town. Sexy Jon Clifton looks more cowboy than pediatrician, he's good with kids and dogs, and what we all want to know is: "Why is this man still single?"
Though there are plenty of ladies in Rust Creek Falls who would like to change the confirmed bachelor's status, Dawn Laramie alone seems to be immune to his charms. The dedicated nurse works side by side with Dr. Jon day after day, intent on keeping things professional and distant. Meanwhile, we here at the "Gazette" can practically hear the tension thrumming between these two. Our diagnosis? A classic case of lovesickness with an age-old cure But will the doctor's proposal heal Dawn's wounded heart?
Good book. Jon is new to Rust Creek Falls, having answered an advertisement for a pediatrician. He has some heartbreak in his past and has kept his emotions under control ever since. Dawn grew up in Rust Creek Falls and has come home after working in a city hospital. A recent romance has reinforced her distrust of men.
The initial meeting between Dawn and Jon didn't go very well. Jon isn't very good at talking to women, as he'd always been more interested in doctoring than flirting. Unfortunately, he managed to come across as judgmental and pompous and wasn't able to correct the impression before she walked away. Dawn had noticed his good looks when he first came in, but when she found out he was the new doctor she'd be working with, all her warmth and friendliness vanished. She was also irritated by his attitude about the infamous spiked punch incident (series
Montana Mavericks: What Happened at the Wedding
).
Dawn had been burned by getting involved with a doctor at her previous job. It turned out that he was engaged and hadn't told her, making her look like she'd knowingly been involved with another woman's man. After it came out, she was treated badly by others at the hospital, making her working life miserable. She left there to come home and work at the clinic, vowing she'd never get involved with another coworker. His lies and omissions also reinforced her distrust of men, thanks to the actions of her father. He had left the family, and his subsequent actions were extremely erratic and unreliable. Since that time, she has had trouble believing that men could be relied on.
Jon had his own issues that kept him somewhat isolated. While working as a doctor in a hospital, he had lost a young patient unexpectedly and it made him question himself. He took a job in Thunder Canyon to get away and heal. The effect the loss of his patient had on him also caused a rift between himself and the woman he was living with, making him reluctant to get involved again. After a few months of quiet at Thunder Canyon, Jon is ready for something more and joins the clinic at Rust Creek Falls.
Though their first meeting didn't go well, there were obviously sparks between them. Dawn is determined to keep it professional and treats Jon very differently than everyone else. I liked that Jon was determined to fix it and loved seeing him challenge her. Jon would really like to get to know her better, but accepts her reasons for being just friends. However, it's pretty obvious that they aren't going to be able to stick to it.
I loved watching the relationship develop. With Dawn's help, he finally saw that he wasn't solely to blame for the end of his previous relationship. I liked seeing the way that he was there for Dawn during some of her family issues, and that he helped her see things from a different perspective. When they cross the line from friends to lovers, both of them panic a little and try to go back to being just friends. He resisted the idea that he was falling for her until it was impossible to deny. Dawn realizes she has fallen for a man who probably won't stay in town. A medical crisis that has the potential to pull them apart, instead opens their eyes to what they really want. I loved Jon's big moment at the end.
I also liked the storyline involving Dawn's mother and father. His reappearance in their lives gives Dawn the chance to see her parents' relationship through the eyes of an adult rather than a child. She's very antagonistic at the beginning, but slowly begins to get to know him. I liked the tipping point in their relationship, as Hank is there for her when she thinks things are falling apart between her and Jon.