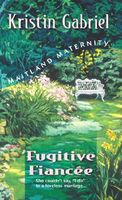 Series:
Maitland Maternity Clinic
(Book 2)
BRIDE-TO-BE... OR NOT TO BE?
MIMI CASVILLE is through with men. After a close call with matrimony, Mimi's not looking for a new romance. So how does a woman running from one man find herself living with another? When she wanders into Garrett Lord's barn, all she's looking for is a place to hide. She never dreams she'll find so much more than that in his arms....
GARRETT LORD is through with women. As one of the last bachelors in town, he's getting sick of having lovesick females throwing themselves at him ... until he's tempted to take a roll in the hay with gorgeous Mimi. She's sweet, she's sexy ... and she's hiding something! Still, she's just the type of woman Garrett wants for a wife. Only, Mimi's first groom isn't ready to let her go....
Good book. Mimi is all set to get married when she overhears her fiance and her father talking about the money he is getting for marrying Mimi and getting her pregnant. Furious and hurt, she flees the wedding, hopping in her car and driving until she runs out of gas. On foot, she ends up hiding in Garret's barn, while she tries to figure out what to do next. She has no money, no car, nothing except the wedding gown she is wearing.
Garrett dashes into his barn to hide from one of the females determined to marry him. He's not expecting to find another one, already in a wedding gown, lying in wait. It takes some fast talking on Mimi's part to convince him she isn't interested in him. He gives her shelter for the night, planning to take her back to the city the next day.
I really enjoyed the development of their relationship. Garrett wants to send Mimi on her way as soon as possible. She's stirring unwelcome feelings in him, as well as unwelcome memories. Garrett and his three siblings were abandoned by their mother when he was a little more than two and his siblings were infants. Then his fiancee left him standing at the altar. Having been abandoned by two women, Garrett has no desire to get involved with another. Mimi just wants a chance to figure out what to do, without the pressure her father and Paul will put on her. She wants to stay on Garrett's ranch. When she discovers that he advertised for a temporary ranch hand, she offers to fill the position herself. Garrett refuses, wanting her far away from him.
I loved the way that Mimi made a bargain with him, that if she could fill the position for three days, he'd let her stay the month. Garrett is determined to show her that she can't do it, and she is equally determined that she will. I loved seeing her step up to every challenge he laid down, achieving an excellent amount of respect from Garrett. All that time together has the attraction building and burning stronger. Garrett is fighting his feelings, but losing fast as Mimi makes a place for herself in his home and his heart.
Both of them still have obstacles to a happy ending. Garrett, thanks to his past, hates dishonesty with a passion. He is also obsessed with finding his birth mother, and finding out why she abandoned them. Mimi understands his need to know about his past, and puts her abilities as a researcher to work. I loved seeing what she does to find some of the information he's looking for. Mimi has a couple secrets of her own. First, she didn't tell him her real name, wanting to be accepted for who she really is, rather than her name and money. Second, she has an event in her past that, combined with Garrett's issues, is likely to drive him right away from her.
What Mimi doesn't know is that Paul is determined to get her (and her money) back in his clutches. He has a PI looking for her and any information he can dig up about her. When he finds the leverage that he needs, he takes steps to ensure her cooperation. Mimi's fear has her fulfilling Garrett's worst nightmare, and it looks like history will repeat itself. But a pep talk from one of his sisters has Garrett taking an unexpected action. I loved his big moment and seeing him come through for Mimi. He also gave her the courage to confront her father, which resulted in a very satisfying outcome.
The bonus to the story was the epilogue. There was a fun scene at the wedding, which would have been enough in itself. Even better was the surprise twist that occurred at the reception, bringing the book to a sweet and emotional conclusion.