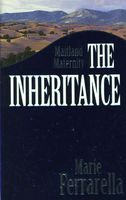 Series:
Maitland Maternity Clinic
(Book 17)
Independent rancher Rafe Maitland had never met his wealthy relatives -- and planned to keep it that way. But when matriarch Megan Maitland's lovely personal assistant arrived on his doorstep, determined to ensure his presence at the family reunion, Rafe showed he could be as demanding and crafty as any other Maitland. Because the price for his company was a marriage of convenience -- and all to keep custody of the little girl he'd inherited....
Oldie but goodie. Megan Maitland is determined to bring her family members together for a family reunion - including the estranged ones. She has sent her personal assistant to convince one of those members to participate.
Rafe has never met any of his relatives, and if they're anything like his father, he has no interest in doing so. His life is busy enough without adding unwanted relatives. He's the foreman of a busy ranch, and has recently become the guardian of a baby girl. He's determined to do right by his best friends' daughter, but the mother's aunt and uncle are trying to take her away. I really loved how he has bonded with little Bethany.
Rafe has no interest in hearing what Greer has to say, but she refuses to leave without being heard. He's a bit intrigued by her determination, but has no intention of giving in. Until she offers to do whatever he needs to make it happen. He comes up with an idea that could help him, but also might run her off for good. So he makes the bargain that he will go if she will pretend to be his fiancee until the custody hearing is over. He's stunned when she agrees, but he's a man of his word and he'll follow through on his promise.
I really enjoyed the relationship that grew between Rafe and Greer. They are two very different people. Rafe is self-reliant, a bit of a loner, and cynical about wealthy people. His father was a gambler flitted in and out of Rafe's life. His mother was a Vegas show girl with issues of her own. She wasn't the best mother, but she had her moments. When Greer arrives with her invitation, Rafe is sure that Megan has some kind of agenda, and doesn't believe Greer's glowing description of her boss. Rafe isn't particularly nice to Greer, trying to run her off. But he starts to admire her determination. He also discovers an unexpected attraction to her. Greer grew up in foster homes, always hoping to find a family of her own. She is impressed by the close relationships of the Maitlands, and by the adversity some have had to overcome to get there. She can't allow Rafe to throw away his chance to be part of it, so she accepts his "proposal".
In having to pretend to be engaged, Rafe and Greer are forced into togetherness. As Rafe and Bethany arrive in Austin for their introduction into the family, Greer is there to help ease the way. I liked seeing Rafe's view of Greer change the more he got to know her, and start thinking about making their arrangement permanent. Greer dreams of the same thing, but has such a poor opinion of her own appeal that she doesn't believe it could ever happen. Her love for Rafe and Bethany really shines during the custody hearing, and I loved her passionate response to the judge's questions. Later, a makeover shows her what everyone else (especially Rafe) can already see. I loved Rafe's big moment, as he tries to express his feelings to her. His vulnerability is sweet and romantic. Greer's fears create a bit of a bump in the proceeding, and I loved seeing Rafe overcome them.
As this is part of a continuity, there are a couple of unresolved storylines. A man from Megan's past has reappeared and wants back into her life. I suspect there is more to his arrival than just a desire to make amends. There is also someone who is vandalizing the new construction at the clinic. We see who, but as yet have no indication as to why. I will eventually track down and read the other books in the series to get the whole story.