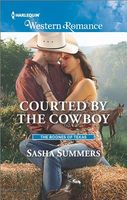 Series:
Boones of Texas
(Book 3)
SAFE AT LAST?
Kylee James is giving hope one more chance, this time in Stonewall Crossing, Texas. Hope wasn't supposed to come in the form of a hunky cowboy -- local veterinarian Fisher Boone. But a good man like Fisher deserves a life without Kylee's baggage, so letting him go is the best way she can love him.
Fisher wants to help Kylee find a fresh start and happiness, especially if she found it with him. But Kylee seems intent on pushing him away. When her painful past resurfaces, will Kylee finally open her heart to Fisher, or will she run from the one man who'd do anything to protect her?
Good book. I liked Fisher in the previous books, but he really shines in this one. He is what I would call a "gentle giant". He is a big man, tall and muscular, but is also sensitive to people's feelings and amazing with the animals he treats. He has a great sense of humor and a fantastic relationship with his family.
Kylee was a little harder for me to warm up to, but once I understood her I wanted her to find happiness with Fisher. Kylee had come to Stonewall Crossing with her twelve year old brother, trying to escape from a bad situation in Las Vegas. Because of everything that she had been through, she doesn't trust people, especially men. She has also learned to rely on only herself, as she has never had anyone that she could depend on for help.
Fisher is taken by Kylee from the moment he met her. He wants to get to know her, but she doesn't seem to be interested. He's impressed by the way she takes care of her brother and wants to find a way to make things easier for her. I liked the way he connected with Shawn. It was fun to see how fascinated Fisher was by Kylee and the way he watched her. He endures a great deal of teasing from his friends and family because of it, as he has never been known for his way with the ladies. The more he learns about her previous life, the more he wants to show her what life could be like with him.
Kylee doesn't know what to make of Fisher. Where she comes from, people don't do things to be nice, there is always a price to be paid. She isn't proud of the things she had to do to survive and take care of her brother. Even now, far away from their old life in Las Vegas, she is constantly looking over her shoulder, afraid that someone will come after them. She is drawn to Fisher, but certain that her past makes someone like him far out of her reach.
I really enjoyed the development of their relationship. Fisher is determined to get through to Kylee, but also has the patience to take it slow. I liked seeing him reach out as a friend first, getting her to accept him that way. I loved Kylee's confusion when he didn't behave the way she expected. She began to believe that he was the real thing the more she saw of him. Her heart started dreaming about what it would be like to be with him, but her head wouldn't let her believe that it was possible. I liked how Fisher drew Kylee and Shawn into the circle of his family, giving them a taste of something they had never had before. It was kind of funny, but also heartbreaking, when Kylee offered to help Fisher win the heart of his fellow vet. She was sure that he was interested in Brooke, and wanted to help him win someone who was worthy of him. Meanwhile, Fisher was just confused by her insistence that he wanted Brooke.
I loved seeing Fisher finally convince Kylee that she was the one he wanted. She really started to believe that a future was possible with him. Then her past reared its ugly head and she returned to her old "flee" mode. I loved seeing Fisher's unexpected eloquence in showing her that staying and believing in his love will give her everything she dreamed of. The epilogue was really sweet, and I loved the surprise at the end.
The secondary characters were great. I loved seeing more of the Boone family and how the various members are doing. I loved Fisher's sister Renata and would love to see a story for her. I also want to see a story for Archer. He is one that will be a real challenge for some poor woman. My favorite was Kylee's brother Shawn. He has been through so much that I loved seeing him have a chance to be a normal kid. He has some great moments with Fisher, as he experiences things he'd never even dreamed of before. He also makes a mistake at the end that creates a big problem for Kylee, but fortunately it all works out.