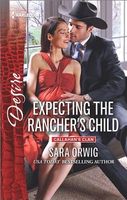 Series:
Callahan's Clan
(Book 1)
The rich rancher's irresistible offer…
From the moment they met, their intense attraction has been off the charts. It's rendered Blake Callahan's judgment inoperative. Because the billionaire rancher has offered millions to lure Sierra Benson away from her charity organization to work for him. The offer's just too good for the former designer to refuse.
Working together at Blake's ranch, there's no escaping the powerful desire that draws them closer. But Blake's driven by his need for revenge against his father, while Sierra is all about helping those in need. So how will they bridge their differences when Sierra discovers she's pregnant?
Good story of opposites attracting. Sierra is a former interior designer who has left that career behind to run a non-profit charity. She's much happier doing that work and can't conceive of going back to her former life. Blake is a billionaire rancher and real estate developer. He's building a new wing on his ranch house and wants only the best to decorate it. For him, that is Sierra, and he refuses to let anything get in the way of what he wants.
I really enjoyed their first meeting. From the moment he walked into her office, the sparks flew between them. Blake is determined that she will decorate his place, and she is equally adamant that what she does now is more important. Not only does Blake want her decorating expertise, but as attracted as he is to her, he also wants to spend time with her. Throwing caution to the wind, he writes a large check to her for the job, and an equal amount to her charity, if she will do it. He also promises the same amount to the charity for the next three years. Unable to turn away a donation of that magnitude, Sierra gives in. The negotiations between them were very interesting. Blake can't understand why she gave up such a lucrative profession to run a charity. His opinion is that people are only out for what they can get, and that she's naive for thinking that she's really going to make a difference. Blake is extremely cynical about people, starting from when he was a child. His father divorced his mother, married again and had more children, and paid no attention to any of them. He also cheated on his wives. Blake has harbored a great deal of anger toward his father and has spent the last several years taking quiet revenge by trying to put his father's hotels out of business.
Once Sierra arrives at the ranch and begins work, every time she and Blake are near each other the fire between them burns hot. Sierra doesn't want to get involved, as she doesn't see it turning out well, but she's helpless to resist. It's interesting to see that when they avoid his need for revenge and her charity work, they have a lot in common. They don't have a lot of time together, as both have to travel, but when they are apart they miss each other. Neither is willing to consider that they are falling in love because they are just too different.
I liked seeing Sierra try to convince Blake that his quest for revenge isn't worth what it is doing to him. She even invites him to go with her to a charity picnic, where he can see some of the good his donation is already doing. It becomes obvious to Sierra that he's not quite as hard as he thinks he is, which softens her heart toward him a little bit. I liked seeing Blake around her family, as he fit in better than I thought he would. But in spite of it all, he insists that she isn't going to change him.
Their differences become a much bigger stumbling block when Sierra discovers she is pregnant. Blake is all for getting married, even though they aren't in love, because he wants to be a full time dad to his child. He thinks that their passion and how well they get along is enough for a successful marriage. Sierra grew up with parents who loved each other and their children, and she refuses to settle for anything less. I really liked seeing her stand up to him and not be guilted into settling for less. By standing firm, Sierra forces Blake to actually think about what it is that's keeping them apart. I loved seeing the steps he took, and the difference it made to his outlook. It wasn't a warm and fuzzy experience, but it felt realistic. There was an interesting twist to the conversation that opened Blake's eyes to what was truly important in his life. It also brought an unexpected windfall into Sierra's life. I liked Blake's big moment at the end. The epilogue was a nice lead in to the next book.