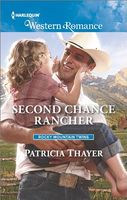 Series:
Rocky Mountain Twins
(Book 2)
THERE'S NO PLACE LIKE HOME…
Single dad Kase Rawlins wants to give his little girl, Addy, a fresh start in life by moving back to the family ranch. The only downside to that plan is seeing his neighbor Laurel Quinn every day -- his first love and the woman he walked away from.
After being jilted at the altar, Laurel decided to focus her attention on training and breeding her quarter horses. But being around Kase, she's finding her heart is being stolen once again, and not just by the rugged rancher. Because it seems Addy's mission is to make Laurel her new mommy!
Good second chance story. Laurel and Kase had been high school sweethearts, until Kase went away to college. Then he decided that if he was going to make his dream of becoming a big-city lawyer come true, he was going to have to focus on his studies. So he broke things off with Laurel, breaking her heart. He went on to achieve his dream, but it also came with problems. Now he's come home to Hidden Springs, but he isn't alone.
It took Laurel a long time to risk her heart again, only to have it tromped on once more. This time, the man she chose turned out to be much worse. Not only did he leave her at the altar, he also embezzled money from the ranch. Laurel feels responsible, and is determined to pay back every bit of the money, even though her father and his business partner don't want her to. So she concentrates on training her horses, working her part-time job, and avoiding getting involved with another man.
It was obvious from the moment they met again that the sparks between them were still alive. Laurel tries to avoid Kase, not wanting to be hurt again, but finds herself ambushed at every turn by one very determined little girl. Kase has come home to help out his father on the ranch (the same one he couldn't wait to escape from) and to give his daughter a different life after the death of her drug addicted mother. He also wants to get away from his in-laws, who are fighting him for custody of Addy. Kase freely admits that he regrets his actions from before and would really like the chance to try again.
I loved the fact that Kase could acknowledge his own past stupidity. He was a bit hesitant about trying to get involved again because of Laurel's obvious reluctance. But with the way that little Addy took to her, Kase was willing to ask for Laurel's help with his daughter. His obvious love for Addy was really sweet, and I loved his determination to do whatever he had to in order to retain custody. This was especially important the more I learned about his in-laws.
I admit to getting a little frustrated with Laurel at times. I admired her desire to make amends for what had happened with the money, but her stubbornness was getting in the way of her moving on. I loved seeing Addy work her way past Laurel's walls, which then opened the door for Kase to follow her in. But she still isn't sure that she can trust Kase to stay in Hidden Springs and not leave, taking her heart once again. She tries pushing him away when she thinks she's gotten too close, but this time he's determined to do it right. I loved his big moment at the end, as he overcame all her fears.
The story of the custody battle was good, but the reason behind it wasn't really a surprise. With his in-laws' attitudes, and the way they had raised their daughter, Kase's determination was completely understandable. I also understood his worry, since they were "model citizens" and friends with the judge. I loved that it was Laurel that figured out the motivation and brought it to Kase's attention.