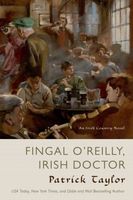 Series:
Irish Country Books
(Book 8)
Dr. Fingal Flahertie O'Reilly is the irascible senior partner of a general practice in the colorful Irish village of Ballybucklebo. Newly married to his once long-lost sweetheart, he's ready to settle into domestic bliss, but there's always something requiring his attention, be it a riding accident, a difficult patient with a worrisome heart condition, a spot of grouse-hunting, or even some tricky shenanigans at the local dog races.
The everyday complications of village life are very different from the challenges Fingal faced nearly thirty years earlier, when fresh out of medical school, the young Dr. O'Reilly accepts a post at the Aungier Street Dispensary, tending to the impoverished denizens of Dublin's tenement slums. Yet even as he tries to make a difference, Fingal's tireless devotion to his patients may cost him his own true love….
It has been awhile since my last visit to Ballbucklebo, and being there again was lovely. This book hops back and forth between Fingal in his current life and Fingal as a new doctor working in the slums of Dublin. The transitions are handled smoothly, with each trip to the past instigated by something that is happening in the present.
In the portions that take place in Dublin, Fingal has taken a post as a GP (general practitioner), helping an older doctor in the Liberties section of Dublin. The poverty and disease there are terrible and Fingal feels a calling to help alleviate as much as he can. As we have seen in previous books, Fingal's personality is such that he gets deeply involved in the lives of his patients. I loved the way that each one was brought to life, making me feel as if I were standing right at his elbow watching what happens. Fingal also stays close to his medical school friends, which include fun times and also times of great intensity. There are also some interesting bits of medical history slipped in, such as the development of antibiotics and the enormous difference they make, and the later advances in cardiology, such as the invention of the portable defibrillator. On a personal side, Fingal's romance with Kitty continues, but it isn't all smooth sailing. In the end, we finally find out what parted them for so many years.
Back in Ballbucklobo, Fingal and Kitty are back from their honeymoon and settling into married life. It's really sweet to see how happy they are together. Fingal is settling back into his practice after being away on his honeymoon, and catching up on the lives of his patients and neighbors. Besides the day to day illnesses, there are a few more intense moments. A riding accident that causes a broken leg, a mysterious chest pain, and heart trouble for our irascible councilman bring a bit of excitement to the practice.
While Dr. Barry Laverty is away, studying to be an OB/GYN, Fingal has a temporary doctor helping out. She's a lovely young lady doctor, which has some of the residents pretty stirred up. It's a reminder that female doctors were few and far between, and not always readily accepted. I enjoyed seeing Jenny win people over. Fingal is torn because, if Barry elects to return to Ballbucklebo, he will have to let Jenny go, as there isn't enough business for three doctors. As he is a man who likes to fix things, he agonizes over what to do. There's an interesting twist to the end that solves everyone's problems.
Also running through the modern side of the story is housekeeper "Kinky" Kincaid's romance with the local milkman. Their courtship was sweet and I loved following along. There's a great scene with Kinky confessing her worry over what would happen to the household if she marries and leaves the O'Reillys. I also loved her sweetheart's conversation with Fingal near the end of the book.
I'm looking forward to getting my hands on the next four books and catching up. Some of them cover his time in the navy and I can't wait to read all about it.