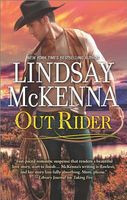 Series:
Jackson Hole Wyoming
(Book 11)
A fresh start -- that's all Devorah McGuire wants. As a former Marine and current Ranger with the US Forest Service, she's grown accustomed to keeping others safe. But when the unthinkable happens, she can only hope that a transfer to Jackson Hole, Wyoming, will allow her to put the past behind her for good.
Dev's mentor at Grand Tetons National Park is fellow canine handler and horseman Sloan Rankin. He shows Dev the spectacular trails, never knowing the terror that stalks her every move. Despite her lingering fear, Dev feels an attraction for Sloan as wild as their surroundings.
With Sloan, Dev can envision a new life -- a real home. Unless a vengeful man fresh out of prison succeeds in finishing what he started…
Lovely conclusion to the series. I am really going to miss all the characters I've gotten to know over the last several years. In this one, the romance is sweet and gentle, and the suspense builds to an intense confrontation.
Dev has moved across the country for a fresh start. In her previous posting she was stalked and assaulted by a coworker. One of the effects of the attack was to aggravate her PTSD from her time in the Marines, and she hopes that the move will allow her to get past it. Sloan has a failed marriage in his past that makes him reluctant to risk his heart again. A blown tire on her horse trailer brings Dev and Sloan together, as he stops to help her change it. They quickly discover that they will be coworkers, and Sloan offers to lead her to where she'll stable her horse and then to her apartment complex. There is an immediate connection between them, though both are wary of pursuing it thanks to their pasts.
I loved seeing the relationship develop between Dev and Sloan. Dev doesn't trust men at all. Her father was an alcoholic who neglected and emotionally abused her. Then the men who should have helped her after the attack instead took the side of her attacker. She isn't sure, at first, that Sloan isn't another just like them. They first began as friends, as Sloan was assigned to mentor her as she got to know the ins and outs of the park. She quickly discovered that just being around him calmed her spirit. As Sloan got to know her, he saw the woman under the fears. I loved his patience and kindness as she opens up to him about her experiences. Though he is very attracted to her, he doesn't push and waits for her to be ready to move further in their growing relationship. It was really sweet to see the way that he included her in his friendships with Miss Iris and Miss Gus, giving her a family type relationship unlike anything she had experienced before. Sloan also understands the strength of her empathy to others' emotions, and is able to help her understand. It was interesting to see how Dev soaked up the peace that surrounded Sloan and how it helped her heal. I really liked that they didn't rush their relationship, letting it grow at a slower pace. The intensity of their feelings grew when the danger that threatened Dev got closer to home. Sloan's protectiveness and inner warrior stepped up to ensure that Dev was safe. I liked the way that Sloan was able to accept his feelings and had the courage to share them with her first. Dev is still cautious about trusting her own feelings, and it takes a crisis for her to take that final step toward her future.
The suspense of the story was really good. Seeing Dev start to settle in and relax in her new surroundings made the shock of Bart's reappearance that much greater. Her recounting of what happened was vivid and it was easy to feel her fear. Having that followed by Bart's version of the events, and also seeing what his plans are, increased the anticipation of what was going to happen. The intensity increased as he became bolder, and the invasion of her apartment was definitely scary. I liked Sloan's support of her, and that this time law enforcement reacted properly. The final confrontation was nerve-wracking. I liked seeing Dev having reacquired the strength of will to defend herself. The pursuit through the forest was exciting and kept me on the edge of my seat until it was all over.
The best secondary characters were the two dogs: Dev's lab Bella, and Sloan's Belgian Malamois with the unlikely name of Mouse. Both are former combat dogs who have new missions. I loved their relationships with Dev and Sloan, especially the way that they sensed their emotions. I adored Mouse and his awesome tracking skills.
I loved seeing characters from earlier books. From Cade's essential help in identifying and then pursuing Bart, to the ranch families and their obvious love for Sloan and then Dev, it brought back fond memories of their stories. I loved the surprise for Dev that they had colluded on, and then the bigger surprise that Sloan had for her. I am truly going to miss these folks.