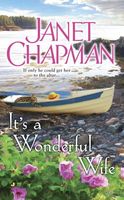 Series:
Sinclair Brothers
(Book 3)
Jesse Sinclair and his two brothers spent years dodging the women his grandfather threw in their path. But then the matchmaking old wolf died, and his brothers did the unthinkable: they ran off to Maine to get married.
Now Jesse wants to join them. Convinced the Pine Tree State must have another eligible woman to spare, he buys a small island just off Castle Cove to build a home for his future family. But as he discovers, finding the woman of your dreams isn't as easy as his brothers made it seem. First of all, the only woman capable of filling those wedding shoes is Cadi Glace and unfortunately, she's already engaged.
So imagine Jesse's surprise when he finds the aforementioned Miss Glace hiding out in his camper, charmingly, adorably drunk. And apparently single.
Really fun book. I spent a large portion of the book laughing out loud at the conversations and other antics that went on. Jesse has been envious of his brothers' happiness in their new lives and decided that he wanted the same thing. But his busy life in New York didn't seem to lend itself to finding Ms. Right, so following in their footsteps he has headed to Maine. He bought an island (Hundred Acre Island) and planned the perfect house for his future family. Six months later he has come back to Castle Cove to check on the progress of the plans. What he gets is a series of unfortunate events that throws all his plans into turmoil.
Cadi Glace is the woman who makes the 3D models for the firm owned by her father and his partner. Shortly before her father's death, she and the partner got engaged, and she has continued doing the models. Cadi has grown up in Castle Cove, only leaving to go to college, before coming right back home. As Jesse arrives in town, he sees Cadi watching her car burn. Being a gentleman, he stops to assist her, and gives her a ride. She is headed the same place he is - the architectural office. He's a couple days early to see his model and she's got a surprise birthday party planned for her fiance. The surprise is on her, as what she finds rocks her world.
This event sets the tone for the whole book as it turns out things aren't quite like they appear. I felt for Jesse as his house models are destroyed before he really gets a look at them. Cadi is understandably distressed by what she found, but not for the reason you would think. As she seeks to escape the pitying looks of the townspeople, she ends up hiding in Jesse's camper, where he finds her after driving to the harbor. She's quite drunk, and Jesse's protective instincts have him taking care of her.
Jesse is smitten by Cadi from the beginning. She is so different from the women he dates that he is intrigued by her. But as far as he knows, she is still engaged, so she's off limits. When he finds out that she has ended the engagement, he is determined to pursue her himself. Cadi is wary, because she sees herself as a small town girl, with no experience outside her small town. She doesn't see how he could truly be interested in her. SHe also sees that she has spent her life being what other people need, to the point where she has lost sight of her own needs. She takes the opportunity for some soul-searching and plans to set out on her own, to experience all those things she has missed out on.
Before Jesse can make his interest known, a business emergency calls him out of the country. I loved the conversation with his brothers, as he tries desperately to get one of them to deal with it. While he is gone, Cadi's boss and ex-fiance discovers that his brother has gotten involved with crook, and that he is the same man that Stanley has committed to designing a house for. Unfortunately, this same man has taken a shine to Cadi and has made it clear that nothing will keep him away from her.
Suddenly Stanley is no longer the mild-mannered architect, and I loved seeing how he takes charge of making sure that Cadi understands just what kind of danger she is in. His instructions to her were great, and her reactions were fun to watch. But Cadi also has a mind of her own, and is a lot more independent and capable than she believes. While she takes the need to disappear to heart, the way she goes about it was unexpected.
I loved how Jesse arrived back in Maine earlier than expected because he was so anxious to see her again. He was disturbed to discover the danger she was in, and determined to find her and protect her. I thoroughly enjoyed his efforts in tracking her down. His stunned surprise in finding out just where she has been hiding was hilarious, especially the way he found out. I loved seeing how the early misunderstanding continues, with Cadi taking advantage of it by pretending to be Jesse's wife to all the townspeople. The scene in the beauty salon was hysterical, with Jesse playing the loving husband to the hilt.
Once they are back on the island, Jesse has his work cut out to show her how he feels. Cadi's self image issues have her convinced that he is only playing house with her. I enjoyed seeing them get to know each other. Jesse finally starts to understand some of her issues and tries to figure out how to overcome them. Cadi has an amazing talent for understanding what people need, even when they don't realize it themselves. There are some really funny scenes where Jesse tries to stand up for what he wants, only to find that Cadi has out-argued him and gotten him to see things her way, everything from treehouses to home offices to where a house should be built.
When Jesse's assistant, Nathaniel, arrives with some information about not just the man who caused the problems, but Stanley too, Jesse has some decisions to make. I loved the discussion that he and Nathaniel had. There was a lot more to Nathaniel than I had expected, and I liked him more every time I saw him. I liked the interaction between Cadi and Nathaniel, though each looked at it differently. I felt bad for Cadi, who thought she had insulted him, while Nathaniel thought she was wonderful. I loved his comments to Jesse about her.
The story concluded with Jesse's brothers and their wives arriving because of a family crisis. I loved seeing all their reactions to Jesse's "wife", though his sisters-in-law nearly wrecked what progress he had made with Cadi. I loved seeing Jesse finally win an argument with her, as it was the argument of his life.
The only thing I didn't like is that things with Stanley were left hanging. We definitely get the idea of what he had done about the problem, but then there's nothing else about him. Do he and his new partner come back or just disappear?

*I received a copy of this book in exchange for an honest review