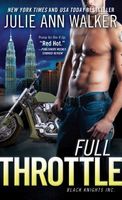 Series:
Black Knights Inc
(Book 7)
Steady Hands, Cool Head...
Carlos "Steady" Soto's nerves of steel have served him well at the covert government defense firm Black Knights Inc. But nothing has prepared him for the emotional roller coaster of guarding the woman he once loved and lost.
Will All He's Got Be Enough?
Abby Thomson is content to leave politics and international intrigue to her father-the President of the United States-until she's taken hostage half a world away, and she fears her father's policy of not negotiating with terrorists will be her death sentence. There's one glimmer of hope: the man whose heart she broke, but she can ever tell him why...
As they race through the jungle in a bid for safety, the heat simmering between Steady and Abby could be a second chance for them-if they make it out alive.
Another exciting adventure. Carlos and Abby had known each other eight years earlier, but the time wasn't right for them. Abby was the eighteen year old daughter of a presidential candidate and Carlos was the twenty-five year old med student who was the son of immigrants. Carlos's sister Rosa was Abby's student adviser. The book starts with a flashback to the event that changed their lives. Abby has just encountered Carlos, who she has a massive crush on. She is on the way to meet his sister, but can't resist stopping to talk to him. She is so into him, but feels like he sees her as a little sister. On the contrary, Carlos is very attracted to her. But there are too many obstacles. First, she's so much younger than he is. Second, the differences between them are too great. Not that it stops him from imagining more. Just as she's ready to leave Carlos to meet Rosa, there is an explosion. She is whisked away by the Secret Service and Carlos heads to the scene - the coffee shop where his sister was waiting. Other than Rosa's funeral that the last she sees of Carlos.
Eight years later, Abby has given up medical school for a degree in botany, and is in Malaysia giving a speech at a conference. The president himself requested backup security from BKI because of intercepted threats. One of the people sent is Carlos, who had given up med school for the army Rangers, then BKI, as his way of avenging Rosa's death. He's not too thrilled to be babysitting the woman who broke his heart, but orders are orders. Abby isn't very happy either. Every time she looks at Carlos, she remembers his sister.
Things start to get exciting when Abby is drugged and kidnapped from her room, which is followed by two explosions on their floor. We see her fear as the drug takes effect, and as she is helpless to resist what happens to her. Meanwhile, back at the hotel, the intensity of what happened kept me glued to the pages. There is harsh reality as they see the results of the explosion, tension as Ozzie receives a life threatening injury, and fear as the ones left standing realize that Abby is missing. I loved seeing Carlos and Dan, as the BKI team, do what they do best, as they work to find out what happened to Abby. They also had the help of Penni, the last surviving Secret Service agent.
Part of Carlos's mind is freaking out with his fear for Abby, but most of it is concentrated on finding her. Of course, he succeeds, but there is a snafu with the rescue team and he takes matters into his own hands to rescue her. What follows is an intense trek through the jungle as they try to stay ahead of those that are after them. I loved the way that Carlos lived up to his nickname, Steady, and always seemed to be in control. I thought Abby was great too. She didn't fall apart when Carlos showed up to save her, and was pretty awesome in her determination to keep up with him during their escape. Her rather unique way of cussing broke up some of the moments of tension and frequently made me laugh. The final confrontation with the man after them was really intense and I wasn't sure how they would get through it. The resolution was great.
In their time together trying to escape, neither Abby nor Carlos can deny that their feelings haven't changed. If anything, they have gotten stronger. Back then, it was mostly Carlos's insecurities keeping them apart. He is now more mature and has a world of experience behind him. I loved seeing the relationship develop. I enjoyed Abby's surprise when she discovered that Carlos had been far from indifferent to her back then and that just intensifies the attraction she feels for him. There were a couple times that the attraction exploded at inappropriate times (hello, Mr. Elephant). Each of them spent a fair amount of time thinking about what they wanted to do with the other. Throughout the book, Abby was haunted by a secret she has kept for eight years, one that she is certain would drive Carlos away from her. The ending was terrific, as Carlos gets some unexpected help in winning his girl.
There was a secondary story mixed in, involving Dan and Penni. In previous books Dan has been dealing with the loss of his wife. He's finally starting to live again, and is surprised by his attraction to Penni. She feels the same, but the events surrounding Abby's kidnapping have thrown her into turmoil. She's dealing with guilt over the loss of her comrades and the reason she wasn't with them. But she buries it as deep as she can while working with Dan to find Abby. The tension between them is obvious and I'm looking forward to seeing how it progresses for them.
I liked meeting the SEAL team and seeing their connection with Dan. The nod to the upcoming series involving the members of that team was a great lead in. I also loved the scene at BKI headquarters, with the guys, the SEALs and their visitors. I was also happy to get an update on Ozzie and really hope to see things work out for him.