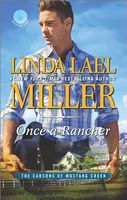 Series:
Carsons of Mustang Creek
(Book 1)
SLATER CARSON might be a filmmaker by trade, but he's still a cowboy at heart -- and he knows the value of a hard day's work under the hot Wyoming sun. So when he sees troubled teen Ryder heading down a dangerous path, he offers the boy a job on the ranch he shares with his two younger brothers. And since Ryder's guardian is the gorgeous new Mustang Creek resort manager, Grace Emery, Slater figures it can't hurt to keep a closer eye on her, as well…
GRACE EMERY doesn't have time for romance. Between settling into her new job and caring for her ex-husband's rebellious son, her attraction to larger-than-life Slater is a distraction she can't afford. But when an unexpected threat emerges, she'll discover just how far Slater will go to protect what matters most -- and that love is always worth fighting for.
Good start to the new series. Slater is the oldest of the three Carson sons, and the one known as "Showbiz" to his brothers. Besides being an honest-to-goodness cowboy, he is also a producer of well respected documentaries. He's just wrapped one up and is ready to start thinking about another one, when his evening is interrupted by Grace and her teenage stepson.
Grace is a former Seattle cop who is now working as a resort manager. Ryder is her ex-husband's son who she is caring for while he is deployed. Ryder is a bit of a challenge right now, as he's not real happy about moving to the middle of nowhere. When she discovers that he has stolen a sign off one of the production company's trucks, she marches him to Slater's office to apologize.
Sparks fly between Grace and Slater from the beginning. Slater definitely wants to pursue it, but Grace is a bit more wary. Her last relationship din't work out so well, and she isn't sure that she can trust her judgment. Slater is a force of nature, however, and won't be deterred from his pursuit. While she fights it at first, she gives in pretty fast. They do spend a fair amount of time getting to know each other. Slater is pretty forceful in his wants, but he's also sensitive to what she needs. I liked the times when she called him on his actions and he would, sometimes unwillingly, back off. Grace's independence often gets in the way of her willingness to accept his help, but eventually she learns that doing so doesn't make her weak. I really enjoyed the give and take between them as both learned the art of compromise. The ending was sweet, with a rather unusual wedding.
Both Slater and Grace are single parents, and I enjoyed seeing how both handle it. Slater and his daughter's mother are good friends and have an excellent parenting relationship. You can tell that Slater and his daughter have a terrific relationship. I liked seeing him extend the same kind of relationship to Ryder. Grace's relationship with her ex isn't as good. She's pretty much disgusted with the way he has treated Ryder, putting his work way ahead of his family. It was great to see how she is there for Ryder, providing the stability he needs. She still struggles with him, and I enjoyed seeing how Slater stepped in and became a great role model. The help allows Grace to relax just a bit, and not be quite so tough on him.
There's a bit of suspense in the story, as Grace deals with a disgruntled former employee. This man had been fired for stealing and doesn't take it well. He turns into a rather nasty stalker, committing various acts of vandalism before setting fire to her house. As a former cop, Grace doesn't panic over it, but turns it over to the local police. I liked seeing her try to rein in Slater, as his protectiveness comes to the surface. The resolution of the problem is well done.
The secondary characters all add depth to the story. I loved Ryder, who was a pretty typical teen who is dealing with family upheaval, While he exhibits some bad attitude at times, he is a good kid. I liked seeing the effect that the entire Carson family had on him. Slater's younger brothers, Drake and Mace are also great. Each one has their strengths, which I'm sure we'll see more of in later books. I enjoyed the sibling rivalry among the three brothers. They could be snarky but the love and support underlies it all. Their mom, Blythe, was awesome. Though the guys all live at home, she is able to treat them as adults - except, of course, when they are acting like teenagers and she gives them "the look". I liked the way that she took Ryder under her wing. The brief appearance of Grace's ex, Hank, showed just why she divorced him and had the issues she did. I was disgusted with his disregard of Ryder and Grace's feelings. It was fun to see his reaction to Slater. There were also brief appearances by previous characters, such as the police chief, Hadleigh, Melody and Becca from the
Brides of Bliss County
series.