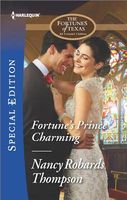 Series:
Fortunes of Texas: All Fortune's Children
(Book 5)
CINDERELLA 2.0
Zoe Robinson had never known true love -- until Joaquin Mendoza rode into Austin and stole her innocent heart. The new guy at work is brilliant and aloof, but Zoe's nursing a secret of her own: her dad might be connected to the famed Fortune clan! But the determined beauty has never backed down from a challenge -- not when it comes to her family, and not when it comes to love.
Joaquin believes he's all wrong for the wealthiest gal in Texas -- he's got one too many family issues keeping him from surrendering his heart to lovely, innocent Zoe. Until shocking allegations surface about her family drama and Joaquin realizes that he might be the ideal match for his Texas princess after all!
Good book. Zoe and Joaquin first met at the wedding of their siblings, Rachel and Matteo (
Mendoza's Secret Fortune
). Zoe was interested in Joaquin then, but she didn't get to spend much time with him. A few months later, Joaquin got a temporary job with the Robinsons' software company, working on a special project. Zoe tries to get his attention, but Joaquin isn't biting.
Joaquin is keeping his attention on his job. He's recently been burned by getting involved with his boss's daughter and has no intention of going down that road again. He's also got some family problems that have him questioning who he is.
I liked both Zoe and Joaquin. Zoe may be the boss's daughter, but she works hard at her job and doesn't try to use her relationship for her own gain. She is also a firm believer in love and fairy tales. She really wants a chance to get to know Joaquin. Zoe is also the youngest of the Robinson siblings and the one who is closest to their father. She is angry with those of her family who are pursuing their belief that their father is Jerome Fortune. She believes him when he says he isn't and wants them to stop tearing their family apart. Joaquin is a nice guy who is being eaten up by his doubts about his paternity. He doesn't want to cause his father distress, but he really feels that he needs to know the truth. He's interested in Zoe, but feels he's too old for her, plus there's the whole work thing.
I liked the development of their relationship. Joaquin tried really hard keep Zoe at a distance. It was fun to see her determination to get to know him. The company teambuilding day at Cowboy Country was really fun to see. I loved the way that Zoe quickly figured out that the woman from HR was rigging the team choices to keep Joaquin for herself and Zoe's clever way of foiling her. It came back to bite her when Zoe was left stranded, but Joaquin came to her rescue. That was the true beginning of their relationship as they got a chance to get to know each other away from work. I loved seeing how much they had in common. Though Joaquin doesn't think of himself as a romantic guy, I really enjoyed seeing the sweet way he treated her. When the attraction started to burn really hot, there was an interesting twist and I loved how he dealt with it. I liked how quickly they connected and built up to feeling able to talk about anything.
When Zoe discovers something disturbing about her father, she confides in Joaquin, needing to be able to vent to someone. She's stunned by his reaction to the news. She can't believe the way that he seems to be judging her decisions on what she wants to do. When Joaquin confesses his own family dilemma, she understands a bit better about why, but is still hurt. She has advice of her own for him before she leaves, worried that this problem spells the end of their relationship. I liked seeing Joaquin think about what she said once he calms down, and then take action on it. I loved hard look at what he wants and how he realized that Zoe was it. His big moment at the end was great and super romantic.
I loved the relationship that Joaquin has with his dad. They are really close, which is why Joaquin's questions are so hard on him. He doesn't want to cause his father pain. I loved the revelations and how they all worked out.
The questions on the Robinson side continue to cause stress within the family. Zoe is completely on her father's side, until she makes a discovery that has her questioning everything she believed. Her confrontation with her father reveals some things that leave her reeling. I am looking forward to seeing what happens in the next book.