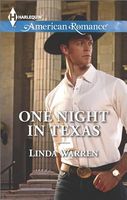 THE SECRET OF HORSESHOE, TEXAS
Angie Wiznowski has made mistakes -- the biggest is the secret she's kept from Hardison Hollister for ten years. The man she loved has the right to know what happened following that hot Texas night long ago. And it could cost Angie the most precious thing in her life.
Hardy has no inkling he's a father…until an accident leaves a young girl injured and the Texas district attorney with an unexpected addition to his family. Blindsided by shock and hurt, Hardy can't forgive Angie for her deception. But as he gets to know his child, old and new feelings for Angie surface. While scandal could derail Hardy's political future -- is that future meaningless without Angie and their daughter?
Good second chance story. Back when she was eighteen, Angie was in love with her best friend's older brother. But he treated her like another sister, until the night of a party got out of hand. Punch was spiked and Angie got rather tipsy. Afraid to go home because of her mother's strictness, Hardy put her to bed at their house. The next morning, a grateful kiss from Angie turned into something more. By the time Angie discovered she was pregnant, Hardy was engaged to another woman, so she kept her secret. She married a friend to give Erin a name, but it didn't work out and she came home to Horseshoe and the support of her family.
For ten years the secret has weighed on her. When Hardy moved back to Horseshoe she knew she had to tell him, but circumstances kept it from happening. Until the day Erin ran out in the street, right in front of Hardy's truck. Suddenly there's no keeping the secret any longer. Hardy is stunned, angry at being kept in the dark for so long, and determined to get to know his daughter.
I thought this was a pretty realistic look at how people react to things that happen in their lives. Because of her mother's rigid religious beliefs, Angie had been afraid to confess her pregnancy to her family. The desperate marriage and its end are not uncommon. Erin has become Angie's life, and she will do anything to protect her. She's mostly able to put Hardy out of her mind, until he moves back to Horseshoe. Hardy had been attracted to Angie way back, but the age difference was significant at the time. Plus, he had had his life and career mapped out since he was a kid, and Angie had no place in his plans. So he buried the memory and moved on with his life. When he came back to Horseshoe he did what he could to avoid coming in contact with her. He was horrified by the accident and was determined to do whatever necessary to make things right.
As scared as she was, I was happy to see Angie finally tell Hardy the truth. She is nervous about it, afraid of his reaction, and worried about the effect it will have on Erin. Hardy's anger is understandable, but I also admired his determination to be involved. I loved the fact that they actually talked about it like rational human beings. I was a bit mad at him at first, as he tried to lay all the blame on her, but he redeemed himself when he finally admitted that some of the blame was his own.
What followed was a terrific story of two people brought together by a child. I enjoyed seeing Hardy get involved in their day to day life, dealing with the good and the bad. Spending that much time with Angie has the old feelings coming back. Angie also discovers that her love for Hardy had never really gone away, and was now growing even stronger. She worries that their growing closeness could damage his political aspirations, and tries to keep him at arm's length because of it. Hardy has his own battles to fight, against his father's expectations, and against his girlfriend's determination to sweep it all under the rug. A threat against Angie brings everything into sharp focus for him, and I loved seeing how he dealt with it, though I would have liked stronger consequences for the instigator. I liked seeing Hardy's vulnerability at the end, as he goes after what he really wants. I loved the epilogue and seeing how things are going a year down the line.
I loved their daughter Erin. She was quite character in her own right. Her reaction to the news was not unexpected, and I thought that Angie and Hardy handled it well. Her happiness at having a father was sweet, and I loved Hardy's reaction the first time she called him daddy. She also has a pretty strong will, and I loved the way she took sharing the news into her own hands.
The assorted family members also had their places. The strongest ones were Angie's mother and Hardy's father. I didn't like her mother for most of the book. She was far too rigid and judgmental, and her reaction to the news was just plain mean. There was a neat scene where she was called out by her mother-in-law, and she did redeem herself pretty well at the end. Hardy's father is one of those men who seems to enjoy running his children's lives. His constant harping on Hardy and what he had to do was annoying. Once Hardy found out about Erin, I liked seeing him push back. I wanted to smack his father over his visit to Angie and loved seeing her stand up to him. Fortunately, he came around pretty quickly.