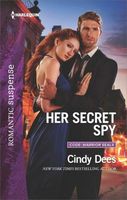 Series:
Code: Warrior SEALs
(Book 2)
Lover. Trickster. Villain. Hero. Which of these is undercover spy Max Kuznetsov? Despite her psychic gifts, Lissa Clearmont isn't sure. All she knows is the gorgeous guy saved her life outside her New Orleans curio shop. And now they're fighting brutal Russian mobsters…and feeling extrasensual passion.
Although he's protecting her, Lissa knows Max keeps his darkest self -- and true mission -- hidden. It pains her when Max doubts the powers that have already cost her a normal life. But when Lissa foretells inescapable danger, Max and his team of SEALs must believe in her…or the dead people she sees will be all of them.
Good book with a heroine who is a bit different than the usual. Lissa has come to New Orleans after inheriting her aunt's curio shop. Both Lissa and her aunt were known for their psychic abilities, but Lissa wants nothing more than to escape hers. One evening as she is leaving the shop, Lissa is attacked and Max comes to her rescue.
Max is a CIA agent who has been on an extended leave of absence in order to pursue an investigation of his own. He has been undercover for two years, infiltrating the local Russian mob. Convinced that the curio shop and its owner have a big part in it, Max has been keeping watch over it for the last two weeks. He can't stand by as Lissa is attacked, even if it might blow his cover.
I liked both Max and Lissa. They are two very different people. Max was raised by a man who was determined to train Max to be just like him, but Max had different plans. However, he learned his lessons well and they have contributed to the man he is today. He is very pragmatic and logical, and doesn't believe that psychic abilities are real. Lissa has had her abilities for most of her life. Most of her family doesn't believe either. Unfortunately for Lissa, her gift is attached to violence, and her propensity was locating dead bodies. She worked on and off for the FBI in New England from the time she was nine. But she got tired of the way people looked at her and came to New Orleans determined to ignore her abilities and try to live a "normal" life. Try as she might, she can't ignore what she sees when she gets there.
I liked the development of their relationship. Their initial meeting was intense, as Max rescues her from her attacker. Her abilities tell her that he's on her side, but she senses that there is something he's hiding from her. Max has been watching her place, believing that she is involved somehow with the Russian mob. Once he meets her and finds out who she is, he realizes that she is innocent of that. He is immediately drawn to her and finds himself quite protective of her. Lissa initially tries to hide her visions, especially since Max doesn't believe, but they are too strong to deny. Their process of getting to know each other was unique, as she would see or sense something and then try to get Max to talk about it. At the same time, Max was trying to reconcile his disbelief in her "woo-woo magic" with the truth of what he was witnessing. All Lissa wants is a man who will accept her for who she is, and Max's disbelief hurts as her feelings for him grow. Neither of them can deny their attraction, and when they give in to it the results are explosive. I liked seeing Max realize just how much Lissa has come to mean to him, and his astonishment when he admits he loves her. I loved the ending. His timing on his confession of his feelings was pretty amusing.
The suspense of the story is very good with plenty of action. Max has been trying to find out who the head of the local Russian mob is, because he believes that man is responsible for his mother's death. He has been watching Lissa's shop because he believes it to be an integral part of the setup. Lissa inherited after her aunt's death. Her aunt had called her a few days before, telling her that she was going to die and was getting her affairs in order. Max suspects that Callista was involved and that her death is suspicious. Meanwhile, his "boss" in the mob wants Max to stay close to Lissa and make sure she won't be a problem. Lissa's abilities have her seeing all kinds of things and she is soon the target of multiple attacks. I liked seeing how she trusted Max enough to protect her, and how he started to believe in her visions. It was interesting to see how being around him enhanced her abilities. Lissa and Max teamed up to see if they could get to the truth, and discovered that there may be a link between the head of the mob and Lissa. A close call had Max calling on his SEAL friends (
Undercover with a SEAL
) for help. The final confrontation was exciting, with an escape into the swamp and some interesting interactions with the SEAL team. While there was some resolution, there are still several unresolved issues. I'm looking forward to seeing what comes next.