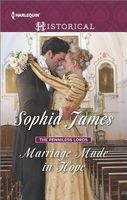 Series:
Penniless Lords
(Book 4)
"Sometimes I could scream with boredom."
Measured and self-effacing, Lady Sephora Connaught knows there is another, more reckless side to her. When she's rescued from the fast-flowing Thames by the wild and dangerous Francis St. Cartmail, Earl of Douglas, suddenly her confined world bursts into vibrant life.
Francis has never fit into high society's narrow world, so why does he feel so connected to -- and undeniably aroused by -- this "angel of the ton"? She offers him hope, but only time will tell if their fragile marriage is enough to banish his demons forever!
Good book. Sephora and Francis are, on the surface, very different people. Sephora is called "the angel of the ton" because of her beauty and impeccable behavior. She is engaged to a man she has known all her life, the heir to a dukedom. On the other hand, Francis is known as wild and dangerous, with many rumors about things that happened during his time in America. He doesn't really care what people think of him. They are brought together when her horse throws her into the freezing water of the Thames and Francis dives in to save her. That starts a chain reaction that has Sephora questioning who she has become.
I liked Sephora though at first I wasn't sure I would. When she landed in the water of the river I thought she gave up too easily and just waited to die. The effect of her near death experience was two-fold. First, it sent her into a depression, as she seemed to have trouble coping with the idea that she could have died. Her mind frequently went back to her time under water and she didn't seem to be able to move past it. Second, it made her realize that she has been drifting through her life, accepting other peoples' expectations of her, without standing up for her own wants, until she had totally lost her sense of self. I liked seeing her start to question her relationship with her fiance, Richard, who gave me the creeps from the very beginning. I loved her instinctive trust of Francis, in spite of everyone telling her how terrible he was.
I ached for Francis. He had suffered so much loss in his life and was so alone, except for his three good friends. He wants a family of his own, such as they have found, but has come to believe that he doesn't deserve it. There are things in his past that haunt him, adding to his unhappiness. Even though the people of the ton look down on him, he is the only one who didn't hesitate to dive into the river to save Sephora. From the moment he saw her under the water, he felt a connection to her that he couldn't deny.
I really liked the development of their relationship. Sephora's sense of fair play wouldn't allow her to ignore Francis and his rescue of her, even though Richard and her parents tried. She discovered that only in his company did the darkness that was pulling her down go away. She also felt safe with him, something she no longer felt around Richard. I really enjoyed seeing her rediscover all the parts of herself that she had buried while trying to live up to his expectations. I was thrilled when she took a chance and went to see Francis at his home. Francis had been trying to do the right thing and stay away from her, since she belonged to another man. It was fun to see the way that his friends tried to make him see that she was exactly the woman he needed in his life. His honorable nature showed through when, first he returned her to her home when she came to see him, and then proposed marriage when her visit became public knowledge. He knew that he cared for her, even though he wouldn't admit it out loud, and his protectiveness was there without being smothering. I really liked the way that being near him gave Sephora the courage to stand up to her parents and marry him.
Thanks to an attack that injured him, Francis and Sephora had the time to get to know each other before taking their relationship to a physical level. I loved the way that she came to his aid during the attack and took care of him afterward. It was great to see how they could share their fears with each other without being afraid of ridicule. I really liked Francis's sensitivity to her, and his ability to give her what she needs. I also liked Sephora's ability to show Francis a different way of looking at the events of his past, one that made it possible for him to let go of the guilt and contemplate a happy future with her. I also loved the fact that Sephora became just as protective of Francis, and how that came out during the confrontation at the end of the book. I loved seeing them both finally have the confidence to confess their feelings.
There was also a bit of mystery taking place. Francis discovered that he had an illegitimate cousin and became the girl's guardian as soon as he did. She had been raised by a stepfather who was involved in smuggling and had witnessed some things that put her in danger. I loved Francis's determination to get to the truth and make her feel safe. I had a suspicion about who was involved, and though I was a little off, there was still enough for me to feel satisfied by what happened at the end. I liked the help that Francis received from his friends, and also that he didn't try to keep Sephora isolated from it all.
I really liked the girl Anna and the relationship she developed with Francis. Even though he was at a loss about how to deal with her, he did his best. I loved the way he showed her over and over that she was part of his family and that he wouldn't turn his back on her. I felt for her and her fears as she came to grips with her new life. It was great to see her change from untamed and fearful to a typical girl of her age, thanks to the love and care of both Francis and Sephora.