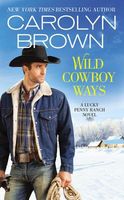 Series:
Lucky Penny Ranch
(Book 1)
SOMETIMES ALL LOVE NEEDS IS A LITTLE LUCK
Allie Logan isn't the type to land a hot hunk of cowboy. Truth is, she's given up on dating since shedding her no-good ex. But the new owner of the most ramshackle ranch in Texas might just change her mind about that. He's six-foot-plus of tall, dark, and charming-the kind of guy who could make a girl throw caution to the wind . . . or the kind of guy who could break her heart.
Blake Dawson hopes he can make Lucky Penny Ranch finally live up to its name, but the property needs a ton of work. Allie and her carpentry skills are his best shot at getting things in order. Besides the fact that her brown eyes and dangerous curves have him roped and tied. Now Blake only needs to convince her that a wild cowboy can be tamed by love-and she's just the one to do it . . .
Another fun hot cowboy and sassy woman romance from the author. Blake, his brother and his cousin have bought the rundown Lucky Penny Ranch, hoping to turn it into a successful cattle ranch. Though Blake has been known for his way with the ladies, he's ready to leave his wild ways behind and settle down to life as a rancher. He's the first of the three to move to the ranch and has begun preparing the land and trying to get the house in order.
Allie is feisty and determined to live her way. She has sworn off men after divorcing her cheating husband seven years earlier. She's also a darn good carpenter and proud of what she does. She lives at home with her sister Lizzy, her mother Katy, and her grandmother Irene.
Blake and Allie meet when Grandma Irene wanders into his house looking for someone named Walter. Blake keeps his head, plays along and calls the feed store (the only local number he has) hoping someone knows who she is and can help. The voice on the phone promises to send someone right away, and it isn't long before Allie shows up. When he finds out what Allie does, he looks at it as a perfect opportunity to get to know her better, even though settling down isn't in his plans yet. She feels an attraction to him also, but trusting another man isn't going to be easy for her. It was fun to see them fight the attraction that neither could deny. With Allie working on the repairs to his house, it's the perfect opportunity for them to get to know each other without any pressure. I loved Blake's respect for the job Allie does, something that she isn't used to from the other men she knows. I also liked the way that Allie saw that Blake's charming ways were the honest variety, not the smarmy methods of her ex-husband. These two things went a long way toward softening her attitude toward him. I loved seeing their growing friendship develop into something more. Both are up front about their baggage. When rough spots crop up they are able to deal with them in a mature manner once their tempers have a chance to cool down. I loved his proposal at the end, as all his intentions get overwhelmed by his feelings for her.
As always with a Carolyn Brown book, the people surrounding the main characters are integral to the story. She excels at her small town development with a variety of interesting people. First and foremost is Grandma Irene. The poor woman is in the beginning stages of Alzheimers, so you have to feel sorry for her, but it sure does lead to some crazy antics. I love her pursuit of "Walter" and really hope to learn more about their relationship in later books. She is a woman with lots of sass, and when she is with it, her love for her family is obvious. Allie's sister Lizzy drove me nuts for most of the book. She is engaged to a wannabe preacher and her attempts to control Allie were irritating. She was also completely blind to how creepy the guy she's trying to push on Allie is. Her fiance isn't much better, and I agreed with Allie that Lizzy could do much better. There were also the three women who had set their sights on Blake. His attempts to avoid their advances were pretty funny. I was a little disturbed over their revelations about Allie's ex. I'm not sure I could have accepted them as easily as she did. I did enjoy seeing Allie's solution for getting them busy with something other than chasing Blake. I also really liked Allie's friend Deke. It was fun to see how he and Blake became friends so quickly, yet he still remained her friend first and foremost. His protectiveness toward her at the beginning was really sweet. I hope he gets his own story. It was also interesting to see the various attitudes toward Blake and the others' purchase of the Lucky Penny. While some were hopeful that they could make it work, most people didn't believe that they would last any longer than any of the previous owner.