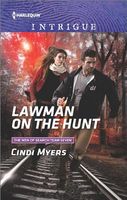 Series:
Men of Search Team Seven
(Book 2)
A lawman and a woman from his past must battle the Colorado wilderness if they're to outwit a terrorist…
Shocked and angry to find his ex-fiancée hooked up with the domestic terrorist he's after, Special Agent Travis Steadman rescues Leah Carlisle -- and then arrests her as an accomplice. But Leah claims leaving him for the terrorist was not the betrayal it seemed. Fleeing into Colorado's mountain wilderness with the ruthless gang in hot pursuit, Travis leads Leah on a grueling trek to safety. Their ordeal leaves him in awe of her strength and resourcefulness -- and quickly sparks rekindled passion. Attraction aside, the sexy lawman knows he has to forget the past and put his trust in Leah. It might be the only way to bring down a killer.
Good second chance romance with plenty of action to keep up the intensity. Travis and his team are preparing to investigate the home of a suspected terrorist when one of the residents returns home. That resident is Leah, ex-fiancee of Travis, and current girlfriend of the terrorist. In the midst of a gun battle with the bad guys, Travis pulls Leah to safety, then arrests her. But not everything is as simple as it looks, and there are things that Travis doesn't know.
Leah has spent the last six months as the prisoner/hostage of the terrorist Duane Braeswood. He gained her cooperation by threatening the lives of those she loved, including Travis. Now that she has a chance to get away, she'll seize it, and hope that along the way she can prove to Travis that she didn't betray him.
The action was constant and intense from the very beginning. Though evidence points to Leah being a part of the terrorist gang, Travis still has trouble believing it of her. When the search of the house is interrupted by the suspects' return, Travis immediately takes steps to protect her, even though she is one of the suspects. They take off into the woods to get away from their pursuers. Though Travis is wary of believing Leah's explanation, he can't deny that it fits what he knows of her far more than her willingly joining Duane and his group.
Their trek through the woods was exciting and intense. I liked seeing how they worked together to make their escape successful. Since Travis only knew Leah from when they lived in the city, he is constantly surprised by the ease with which she manages in the forest. I really loved her MacGyver moment as she used a gum wrapper and a battery to start a fire. In their brief moments of downtime, Leah was finally able to open up completely about her ordeal. I liked the way that Travis was convinced of her innocence. Both of them realized that their love for each other had never died, but weren't sure how they could make it work in their current circumstances. I liked how it worked out.
The suspense of the story, with the way that Travis and Leah were pursued through the wilderness kept me hooked throughout the story. There were several times when I really wondered how they were going to get to safety. Their teamwork was excellent and I liked seeing them overcome each challenge. The final confrontation with Duane was intense, and while it looked like it was resolved there ends up being some things that are left hanging. I'm looking forward to the next book and seeing how it progresses.