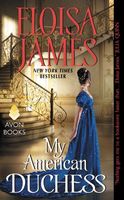 The arrogant Duke of Trent intends to marry a well-bred Englishwoman. The last woman he would ever consider marrying is the adventuresome Merry Pelford -- an American heiress who has infamously jilted two fiancés.
But after one provocative encounter with the captivating Merry, Trent desires her more than any woman he has ever met. He is determined to have her as his wife, no matter what it takes. And Trent is a man who always gets what he wants.
The problem is, Merry is already betrothed, and the former runaway bride has vowed to make it all the way to the altar. As honor clashes with irresistible passion, Trent realizes the stakes are higher than anyone could have imagined. In his battle to save Merry and win her heart, one thing becomes clear:
All is fair in love and war.
Very good book. Merry is an American heiress who has come to London to find a husband. She was engaged twice back home in Boston, but ended both of those engagements. She has just become engaged to Lord Cedric, who seems to be the perfect choice. He's romantic and attentive and she is determined to make it all the way to the altar this time.
Trent has avoided marriage so far, but knows he will have to marry soon. He's looking for a woman who will fit perfectly into his life, looking only for respect and friendship, and avoiding messy emotions. He doesn't expect to run into an American woman who immediately attracts and fascinates him.
I loved their first meeting at the ball. Merry had gone outside for some fresh air, a short time after Cedric's proposal. Her peace is interrupted by Trent's arrival. He's angry and frustrated with his brother and is trying to get under control. Merry first mistakes him for another American, certainly not as one of the highest ranked of the aristocrats. I loved their conversation, with Merry being her usual forthright self, and Trent stunned by his immediate fascination with her. In spite of his usual antipathy toward Americans, he is determined to find out who she is and claim her for himself. He's dismayed to discover that she's his future sister-in-law.
I really enjoyed seeing that he was so smitten, even though he didn't admit that to himself. He was immediately protective of Merry. He had several confrontations with his brother, who he felt was not treating her properly. He tries hard to do the right thing and stay away, as she belongs to his brother, but he just can't do it.
I really didn't like Cedric at all. He was selfish, snobby and mean-spirited. He only proposed to her because of her fortune, and immediately started to change who she was. I hated the way that he was constantly putting her down. It all came to a head during the "pineapple incident" and I wanted to shove him in a fountain. I liked seeing Merry finally stand up to him and see the truth.
I liked seeing the relationship that grew between Trent and Merry. Trent doesn't believe in romantic love, has seen too many times when it just disappears. This feeling is reinforced by Merry's three engagements, where she swore she "loved" each of those men. He would rather base a relationship on respect and friendship. Merry has given up on love because her history has shown her that she's no good at it. I liked Trent's support of Merry after the pineapple incident and how he was determined to claim her for himself. The way he went about it could have turned out very badly, but Merry forgave him pretty quickly.
Once they got to Trent's estate, the fun really began. I liked seeing them get to know each other. Trent's appreciation of Merry's intelligence was great. I loved seeing them debate issues over their meals. They also discovered that the attraction between them was intense. They spent a lot of time exploring that. I also liked the way that Merry learned more about what made Trent the man he was. Merry was the first to realize that she had fallen in love with him, and of course, had to speak out. His reaction was not unexpected, but I hurt for her. The next parts were emotional as she suffered through all his rebuttals. I was so frustrated with him, because it was so obvious that he loved her, too, but he couldn't see it. I liked her reactions and what she she does to try to wait him out. Even more satisfying is his reaction. I loved how he finally realized the truth, and then had to deal with being on the other side of the equation. I loved his big moment at the end, with the nod to what had brought them together. The epilogue was great, with a surprise twist involving Cedric. I hope there will be a story for him.