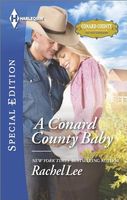 Series:
Conard County: The Next Generation
(Book 23)
MOTHER…NANNY…BRIDE?
On the run from her overbearing family and a fiancé with more menace than love in his eyes, Hope Conroy finally took refuge in Conard County, Wyoming. A place of safety, maybe even possibility. But what could a former -- and pregnant! -- socialite do to keep a roof over her head?
Divorced rancher Cash Cashford never expected to be raising an angry tween all by himself. Something about Hope told him immediately that she was what his daughter needed. And since the new nanny had secrets, he vowed to keep his distance -- for all their sakes, especially his own! But Hope called to him in a way he never imagined, making him yearn to heal their fractured hearts…and form the family they all longed for.
Good book. Hope is almost four months pregnant and almost out of money. When she stops at the diner in Conard, she sees an ad for a nanny/companion and calls about the job. She has no experience, but she is desperate. Cash is the one who placed the ad. His thirteen year old daughter came to live with him after the death of her mother, and it isn't going well. He is just as desperate for help as Hope is.
Hope is nervous about the interview, but is upfront with Cash about her circumstances. She is the daughter of wealthy parents, and was engaged to a man with political aspirations. But when he raped her and she got pregnant, her parents refused to believe her and tried to force her to marry Scott and have an abortion. After being confined to the house for months, she was finally able to escape. I liked that Cash believed her right away, and took a chance on hiring her.
Cash is a bit wary of hiring her because of her background. His ex-wife, even though she had grown up on a ranch, hated being married to a rancher and took Angie and left him. Cash is afraid that someone as privileged as Hope wouldn't last on the ranch.
I liked both Cash and Hope. Cash is a straightforward man who loves his daughter and is torn up over his inability to connect with her. He feels as though he is doing everything wrong, and hopes that finding her someone she can relate to will help. I also liked his belief in and support of Hope. I really liked the strength of will that Hope showed in standing up to Scott and her parents and finding a way to escape. I liked her determination to help Angie and Cash get together. Her new self-awareness was awesome and I loved her excitement at learning "normal" things.
I loved the relationship that grew between Cash and Hope. They were attracted to each other from the moment they met, but their pasts made them reluctant to pursue it. Cash didn't want to get involved with someone he was certain would leave again. Hope was reluctant to trust her ability to know a good man, since she hadn't seen the trouble with Scott until it was too late. Though it was their care of Angie that brought them together, they quickly realized that there was something special growing between them. Though they eventually take it to the next level, Cash gets spooked by the strength of his feelings and his fear of being hurt again. He starts to pull away, which confuses and upsets Hope. But it's Angie that gets them talking to each other to clear things up. It was sweet to see Cash admit his vulnerability, and to see Hope step outside her comfort zone and make her needs known. I loved the final comments by Angie as they finally come together as a family.
I really liked Angie as Cash's daughter. Her reactions to moving to Wyoming are very believable for her age. But for all the angst that she is creating, she is really a good kid. I liked seeing her connect with Hope and start to settle in to her new home. I loved her understanding of Hope's circumstances, and felt for her because of why. I loved her defense and protectiveness of Hope when Scott and her parents showed up. She grows up a lot between the beginning and end of the book and I expect that the new family will do quite well.