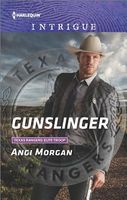 Series:
Texas Rangers: Elite Troop
(Book 3)
A Texas Ranger with everything to lose…
Going undercover to keep the former wife of a Texas crime boss alive is risky business for Texas Ranger Bryce Johnson. Kylie Scott may have evidence that could put her ex-husband's family away forever. If she lives long enough to testify.
For five years, Kylie managed to stay off the mob's radar. With her cover blown, the former model is forced to flee the close-knit community that had embraced her. On the run again -- this time with the seductive lawman who's risking his career to protect her -- Kylie battles her powerful desire for Bryce. If they survive, do they stand a snowball's chance at a future together?
Good combination of romance, suspense and action. Bryce has been looking for the ex-wife of a Texas crime boss for three years. Now that he thinks he has found her, he's gone undercover to get close enough to her that he can convince her to help put her husband away for good. Kylie has hidden successfully for five years, but Bryce's arrival has her wanting to run again. She's haunted by the memory of the attack that killed her friends and nearly killed her.
I really liked both Bryce and Kylie. Bryce is the Ranger who is usually behind the computer, doing the research that helps to track down the bad guys. His search for Kylie has been a personal challenge for him, and now that he thinks he has found her, he wants to be the one to talk to her. He has never been part of an undercover assignment before, and his nerves are pretty obvious. I really liked how he tried to break the news of her discovery gently, before realizing that he needed to be far more direct. His protectiveness comes out as he tries to convince her to put herself under the protection of the Rangers.
Kylie has made huge changes in her life since the shooting that almost killed her. She went from a very public life to living as quiet a life as she possibly could. She ended up in the little town of Hico purely by accident, but found the kind of life she really wanted. I loved seeing how she has made a home for herself and found the family she always wanted in the friends that she made there. She loves making a difference in the lives of the teens she helps. When she realizes that she has been found, all she wants to do is run again. She is terrified of putting her new friends in danger.
I really enjoyed the development of their relationship. Bryce's attempts to get her attention were pretty sweet, as that is something he's never in his life tried to do. He believes he is failing miserably until the day that she comes to him for help with something at her house, and he realizes that she is flirting with him. Kylie noticed him when he was cutting the grass and getting sunburned. She had recently made the decision that it was time to start living again, and Bryce seemed to be the perfect first step. She was stunned to discover that he is a Ranger and knew who she was. She has a great deal of trouble believing that anyone can protect her, and she doesn't want to risk his life. I loved seeing the way that Bryce seemed to be able to read her so well and was able to stop her from running. The attraction between them built as Bryce worked to build up her trust in him. I liked seeing Kylie start to open up to him about her fears. Bryce has a few secrets of his own, and I loved the scenes with his parents. There is still conflict between them as Bryce wants to protect her from whoever is after her, and Kylie wants to get as far as she can from those she loves to keep them safe. It all comes together in the end, and the epilogue was great.
The suspense and action were really good, as Bryce tries to find out who is after Kylie and why. Kylie is convinced it is her ex and that he wants to kill her because she left him. An attack that nearly destroys Kylie's house has them both wondering if they have missed something important, as what happened doesn't really make sense. There's also a great scene in front of a judge that seems to reinforce Kylie's assertion that she doesn't know anything that would help in the case against her ex. There's also a twist to that scene that adds to the danger she's in. An interesting conversation with his boss has Bryce working independently to bring a resolution to the case. The trap he sets with Fred has a couple unexpected twists to it. I liked how Kylie tries to save herself while at the same time believing that Bryce will do whatever he must to save her. The final confrontation is intense with terrific teamwork as it all comes together.