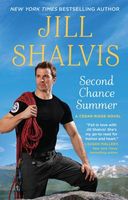 Series:
Cedar Ridge
(Book 1)
RESCUE ME
Cedar Ridge, Colorado, is famous for crisp mountain air, clear blue skies, and pine-scented breezes. And it's the last place Lily Danville wants to be. But she needs a job, and there's an opening at the hottest resort in her hometown. What has her concerned is the other hot property in Cedar Ridge: Aidan Kincaid-firefighter, rescue worker, and heartbreaker. She never could resist that devastating smile . . .
The Kincaid brothers are as rough and rugged as the Rocky Mountains they call home. Aidan has always done things his own way, by his own rules. And never has he regretted anything more than letting Lily walk out of his life ten years ago. If anyone has ever been in need of rescuing, she has. What she needs more than anything are long hikes, slow dances, and sizzling kisses. But that can only happen if he can get her to give Cedar Ridge-and this bad boy-a second chance . . .
Very good book. Lily left Cedar Ridge ten years earlier, trying to escape the memories of her sister's and father's tragic deaths. But her terrific life in San Diego suddenly became less so, and in need of a job, she has come home to help a friend there. The last person she wants to run into (and the first one she does) is Aidan, the guy she left behind.
Aidan was great. He had been a bit of a bad boy and troublemaker back in his teens, but the best thing that had happened to him was Lily. He was devastated when she left town without a word. Since then, he's turned his energies to firefighting, search and rescue, and helping with his family's resort. He has his own painful past - a father that deserted the family, multiple half-siblings from his father's other relationships, and knowing that the resort is in financial trouble that is bearing down rapidly on them. A strong family relationship helps keep it all going. He's surprised to see Lily again, and determined to protect his heart from being hurt again.
I liked Lily. She's a nice person, friendly, with a bit of sass to her. She's also dealing with some trouble that wasn't entirely her fault. Working in a salon that caters to the stars comes with its own problems, and she got caught up in some of those problems. What hurt her was that her boss (and boyfriend) let her take the fall, and now she's paying the price. Her friend from home has hired her to fill in at the salon he manages, which gives her a place to recover while she looks for a new job.
I loved the reigniting of the relationship between Lily and Aidan. Though he wouldn't admit it, Aidan is a nurturer, and from the start he can't resist taking care of Lily. She insists she doesn't need it, and doesn't want it, but it doesn't take long for him to start getting past her walls. I loved the scenes with the firewood, and how Aidan just rolls over her protests. The attraction between them strikes sparks whenever they are together. The connection that they feel scares Lily, who is afraid to love anyone again. Aidan, whose feelings have grown quite fast, is patient, and encourages her to work through her feelings at her own pace. I loved how he was there for her when she needed the support, and yet could step back when she needed him to. It doesn't mean he's perfect, as he does have at least one boneheaded moment, but he does a good job of redeeming himself. Lily really fights her feelings, until a stormy rescue event reminds her that life can be all too short. I loved the post rescue moments, both on and off the mountain, which were both romantic and funny.
The supporting characters were all great. I loved Aidan's brothers and the loving, fun and snarky relationship that they had. I loved the pranks they pulled on each other. I'd love to know more about how Penny and Gray got together, as I suspect it would be quite a story. As one of the half-siblings, Hudson has some of his own issues, but his love for his family is unmistakable. We only heard of Jacob in this one, and I'm looking forward to learning more about him. The boys' mother is fantastic. I loved her way of straightening them out. Their reactions to her dating were hysterical, and I loved seeing her take advantage of it. Lily's friend Jonathan, who gave her the job at the salon, was great. I loved his combination of support and straight talk. He's determined to make Lily see that she belongs in Cedar Ridge.