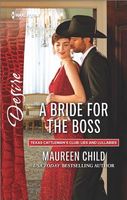 Series:
Texas Cattleman's Club: Lies and Lullabies
(Book 8)
This rich rancher needs his assistant for business and pleasure!
Andi Beaumont has a dilemma: she's wedded to her job, when she really wants to wed her boss, Mac McCallum. The only solution: quit and save herself from heartbreak. But Mac isn't having it.
The Texas Cattleman's Club stalwart has weathered many storms, including a recent attempt to destroy his ranching business. He can't let Andi get away. So he comes up with a plan to get closer to her. But his all-business approach is about to backfire when he discovers the pure pleasure of being with his alluring assistant…
Very good conclusion to this series of the TCC. We've seen Mac and Andi in previous books, as Mac was the center of Rafe's revenge plot (
A Surprise for the Sheikh
). It has been pretty obvious that Andi has a thing for her boss and that Mac is totally oblivious.
Andi has been working for Mac for six years. She is the one who keeps him on track, knows everything about all aspects of the business and his ranch, and keeps his personal life moving smoothly too. She has worked the same hours he has (long ones) and is always on call when he has a question or needs something. She has finally realized that she has no life of her own, and that her dreams of a life with Mac are unlikely to happen. She makes the decision to quit her job and try to move on with her life.
Andi has been such a huge part of his life that he is stunned when she walks into his office and gives him her resignation. He can't believe that she is serious, and attempts to talk her out of it. When that doesn't work, he accepts her request for two weeks vacation before her departure, and hopes that after that two weeks she'll be ready to come back. After two days without Andi at his beck and call, Mac regrets that he took her for granted. Determined to show her that he appreciates her, Mac decides to show up at her house and help her with her long delayed renovations.
What follows is so much fun. Andi is reluctant to let Mac help, fearing that being with him constantly again will weaken her resolve to move on with her life. Mac is equally determined to remind her that they are a great team. What Mac doesn't expect is to see Andi as something more than his right hand man. I loved his surprise at noticing that Andi is a beautiful woman, and how that adds another layer to his desire to get her back to work. Andi decides to treat herself to his company, enjoy it, but resist dreaming that it could lead to more. Now that she has decided that she wants a more balanced life, she is also determined to teach Mac that there is more to life than work. I loved her bargain with him about the phone (how many of us would like to do the same thing with our loved ones?). She was convinced that he couldn't do it, he was determined that he would. His struggle was pretty funny, and I loved seeing how it all played out. His prize of taking her to dinner at the TCC was great, and I loved seeing them together in that setting. What happened next was not unexpected, and put them on a whole new level.
I loved the development of their personal relationship. They knew each other quite well on the work front, but there were still some things to be discovered. Mac had avoided relationships because of the way that business had taken over his life after his parents' deaths. Commitment would just be one more thing in an already overburdened life. I loved seeing Andi show him that it is possible to have a balanced life. Andi has loved him for years, but after watching him go through woman after woman, has no confidence that he would want a lasting relationship with her. She is surprised by his pursuit of her, but certain that it is only one way of getting her to come back to work. She begins to have a little hope as she sees him change, but when business once again interferes with the personal she sends him on his way. As he struggles against admitting his feelings, even to himself, some interference from his sister sends him right back to Andi. The question is, can he admit those feelings and find the happiness he knows he can have with her, or is he going to have to let her go? I loved seeing Andi hold out for what she needs as Mac finally sees the truth.
The epilogue was a nice wrap up for both book and series. I loved seeing the changes in Mac. Andi has gotten everything she could wish for and is ecstatically happy. I also enjoyed seeing the couples from the previous books and how they are doing.